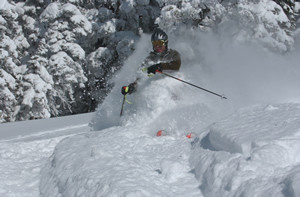 OK, full disclosure: this is me at Grand Targhee, Wyoming, a couple of years ago, but it could be you this weekend at A-Basin or Loveland.
Blog Tools
Comments
PermaLink
From Huffington Post to huffing powder, Vail is all over the Net
May Day could be a powder day in Colorado ski country, so get pumped with sportszu.tv
By David O. Williams
April 30, 2008 — Just when you thought it was safe to go outside again Ė or at least surf realvail.com without being forced to view incessant powder skiing shots like this one of me Ė here comes another winter storm.


The calendar is flipping over to May 1, and forecasters are calling for up to 16 inches Thursday and Friday. Three Colorado ski areas Ė Arapahoe Basin, Loveland and Echo Mountain Ė are still dusting the fluff off the chairlift seats and churning folks up the slopes.


A-Basin will stay open every day till June 8 (what, no July 4 beach party this year?), but the other two couldnít quite make it to Cinco de Mayo, shutting down Sunday, May 4. So break out your fat, slush boards and head over the pass, whichever way youíre coming. You never know, it could be as good as the turns pictured here.
I had hoped to get back on skis this season but itís just not happening as far as my injured knee is concerned. Thereís still a shot at A-Basin, but Iím wondering whether itís worth the risk in the gooey chowder snow.


On the topic of risk, I have to share this video with you from the guys at www.sportszu.tv out of Denver. Itís of Olympic gold medalist Jonny Moseley, who I recently profiled in our Real Sport section, pulling off a flip in the World Pond Skimming Championships on the next-to-last day of the season at Vail April 12 Ė a little event known as Spring Back to Vail.


Kevin Reese, my oldest son Nickís dedicated development team ski coach this past season, is the marketing guru for this youth-sports video site, and I think these guys are really onto something. Check out Nickís Vail Devo Team by clicking here.


And as long as Iím sending you off our site, check out my first post on the Huffington Post Ė a story on local superdelegate Debbie Marquez. Have to admit RealVailís Tom Boyd first wrote about Debbieís conversation with Bill Clinton back in February and I was merely updating the story with primary season winding down.


But hey, Iím the one who got the HuffPo play. Donít worry, Tommy, Iíll share the royalties.


Comment on "From Huffington Post to huffing powder, Vail is all over the Net" using the form below