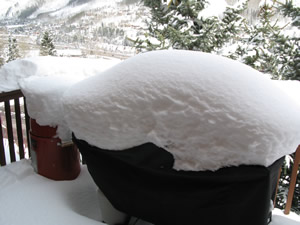 The blogger's West Vail Webercam shows a barbie buried by a foot and half of new snow Friday. Loveland ski area and Echo Mountain are open till Sunday. A-Basin closes June 8.
By David O. Williams
Blog Tools
Comments
PermaLink
All aboard the Obama Express; Barack backs high-speed rail
By David O. Williams
May 2, 2008 — The high-speed rail fan club, which in this country is pretty much limited to the Northeast corridor between New York and Washington, probably gained a few members the last couple of days in Colorado's high country, which in places was nailed by up to a foot and half of new snow.

The early-May dose of January snarled Interstate 70 and continued a brutal winter and spring that has seen stretches of the highway shut down more than 70 times, including more than 20 closures of Vail Pass. Who wouldn't want to hop a train between here and Denver?

Traffic gridlock during peak periods along I-70 in Colorado's mountains has rekindled the concept of mountain mass transit in the form of some kind of high- or even lower-speed train between Denver and Grand Junction. And Colorado mountain rail proponents may have a backer in Democratic presidential hopeful Sen. Barack Obama.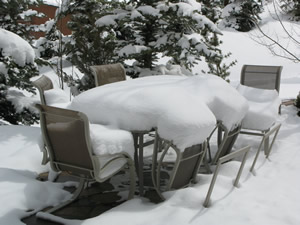 Hard to know exactly how much snow Vail got Thursday and Friday, but it looked like about a foot and a half on the blogger's front patio. That was backed up by the Loveland ski area snow report, which came in at 17 inches in the last 48 hours - and it was mid-January cold out to boot.

According to Time's "The Page – Politics up to the Minute" blog by Mark Halperin, Barack and Michelle Obama, campaigning ahead of the Indiana primary on Tuesday, visited the suburban Indianapolis home of Mike and Cheryl Fischer in Beech Grove on Friday. Mike Fischer, an Amtrak machinist, is facing a lay-off or possible move to another city to keep his job.

The blog reported Obama enthusiastically launched into the following endorsement of high-speed rail.

"The irony is with the gas prices what they are, we should be expanding rail service. One of the things I have been talking about for awhile is high-speed rail connecting all of these Midwest cities – Indianapolis, Chicago, Milwaukee, Detroit, St. Louis," Obama said. "They are not that far away from each other. Because of how big of a hassle airlines are now. There are a lot of people if they had the choice, it takes you just about as much time if you had high-speed rail to go the airport, park, take your shoes off."

The Page reported Obama kept talking up Amtrak:

"This is something that we should be talking about a lot more," Obama said. "We are going to be having a lot of conversations this summer about gas prices. And it is a perfect time to start talking about why we don't' have better rail service. We are the only advanced country in the world that doesn't have high-speed rail. We just don't' have it. And it works on the Northeast corridor. They would rather go from New York to Washington by train than they would by plane. It is a lot more reliable and it is a good way for us to start reducing how much gas we are using. It is a good story to tell."

Check out the whole blog at http://thepage.time.com/pool-report-of-obamas-lunch-with-indiana-voters/.

Also on the topic of trains, Roberto Moreno, who heads up Denver-based Alpino, an organization dedicated to promoting diversity in snow sports and increasing minority participation, posted this comment on the lack of statewide political will for mountain rail on my story on a possible transit solution for the I-70 corridor:

"When Clear Creek County Commissioner Harry Dale argues that ski companies such as Vail Resorts and Intrawest need to be a big part of the rail solution since they have in part contributed to I-70 congestion in the past decade through the sale of discounted season passes in the Front Range market, he is echoing constituent concerns from a growing 'forest ambivalent' electorate which is unwilling to spend the billions of dollars necessary to create a comprehensive mountain corridor solution; one that would include light rail," Moreno wrote, referring readers to a recent guest column he wrote for the Denver Post: http://www.denverpost.com/ci_8974023.

Not sure if Barack is a skier or "forest ambivalent," but he might like the idea of speeding through Colorado's mountains on a high-speed Amtrak train.

3 Comments on "All aboard the Obama Express; Barack backs high-speed rail"