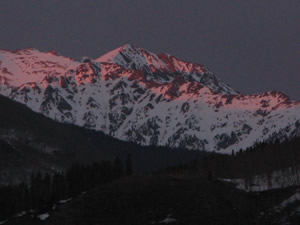 Sunset on the Grand Traverse section of the Gore Range, as seen from the West Vail deckcam.
By David O. Williams
Blog Tools
Comments
PermaLink
Grappling with rec center envy in Vail, and does anyone remember the Mountaineers?
By David O. Williams
May 7, 2008 — Next time youíre in town, if you donít already live here and just havenít figured out a way to escape mud season, do me a favor. Tour the various area rec centers, starting with Avonís, which was the first to come online in the early í90s but is now showing its age, then moving on to Eagle and finally winding up in the brand-new Gypsum Recreation Center.

This place is the freaking Taj Mahal of local rec centers. It boasts a pool, gymnastics center, an arcade, and a full-on workout facility. Everything youíd need to escape a dreary spring day in the Vail Valley, with winter weather clinging tenaciously to the high mountain valleys.

I hit a kidís birthday party there last weekend and was blown away. Then on Tuesday I headed to Vail Town Hall to vote for Vail Rec District board members, and all I could think about was how lame it is that the nationís number-one ski town doesnít have anything remotely resembling Gypsumís mind-blowing new rec center, or any of the other facilities in the county, to be honest.


In fact, with Crossroads torn down and no local movie theaters, no performing arts center, no rec center, Vail has a whole lot of nada to do in town right now, or for that matter during ski season if youíre interested in anything other than dining or drinking after a day on the slopes (OK, we have a couple of killer spas).

Of course, the anti-tax crusaders who have been hyperventilating about increased property taxes resulting from their skyrocketing home values will tell you we donít need such facilities in town because, well, no one really lives here anymore. Which is kind of true, but it misses the point.

I ski, and I ski with my family, and I travel to ski with my family, and when I do that, I am always looking for other things to do besides ski. Itís like going to the beach. How much sun and sand can you really handle? At some point you need some mini-golf and a tiki bar.

You get my point (I hope): Vail needs world-class everything to match its (here comes that overused term again) world-class skiing. Right now itís skiing, eating and drinking (three of my favorite activities), but guests and locals want and need more.

Enough on that. Now for a few local media notes. First, my friend from across the Pass (Vail, that is), Bob Berwyn, who worked with me for years as a freelancer when I was editor of The Vail Trail, dropped me a line the other day. Bob is the king of Summit County media, and he wanted to share with RealVail a blog he wrote about skiing Vail this past season. Itís a good read, so check it out at www.newwest.net.

Now to explain the photo I posted with this blog. Beyond the fact that I simply needed a picture to pretty up the words, and I thought this sunset pic of the Grand Traverse in the Gore Range, shot with my Canon digital (aka the West Vail deckcam), which I acknowledge is not great, fit the bill. Also it offered me this segue (because it depicts Vail mountains, get it?):

You read it here first (or at least I havenít seen it anywhere else): the name of Jim Pavelichís new daily newspaper, coming soon to a news rack near you, will be the Vail Mountaineer (not to be confused with the old club hockey team of the í80s and í90s, which was the Mountaineers plural and known for booze and brawling). My apologies to Andy Clark, but letís hope the new paper develops the same reputation.


Comment on "Grappling with rec center envy in Vail, and does anyone remember the Mountaineers?" using the form below