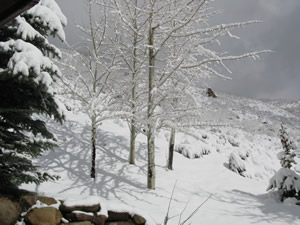 The view from the blogger's West Vail Back Deckcam reveals a winter wonderland Saturday. Another foot of new snow is in the forecast for Monday night into Tuesday.
Blog Tools
Comments
PermaLink
Endless Vail winter parallels seemingly ceaseless political season
By David O. Williams
May 12, 2008 — The winter of 2007-08 in the Vail Valley is starting to resemble the Democratic battle for the White House: the damned thing just wonít end.

Even though the calendar reads mid-May, we got eight inches of new snow Saturday (my oldest sonís third snowed-out soccer game of the spring season) and forecasters are calling for another foot Monday night into Tuesday.

I wonít stretch the Hillary/Barack/frigid weather analogy too far by talking about ice queens or snow jobs or big political chills, but I will have the audacity to hope for some warmer weather as we head into late spring. The ski areas are all in mid-season shape, but thereís only one candidate if youíre still clinging to your skis (it is a form or religion, after all), and that A-Basin.


Meanwhile, things keep heating up on the slippery slopes of local and state politics. In my last blog I was grousing about the lack of recreation facilities in Vail proper, and the recent weather has done nothing to dampen that sentiment that we need more mud-season things to do and peak-season places for the non-skiing masses not to ski.

Last Tuesday saw a spate of special district elections, some of the least publicized and most important contests local voters can decide. Michelle Hall and Jeff Wiles won seats on the Vail Recreation District board, and I hope they have facilities upgrades on their radars.

In other races Tuesday, hereís a list of folks whose names you may not know but who deserve a great deal of praise for stepping up to fill unheralded but vital positions: Louise Funk and Bob Finlay won seats on the Eagle-Vail Metro District board, and Rick Sackbauer was elected once again to the Eagle River Water and Sanitation District board.

In Avon, voters decided not to let the town amend its charter so that town-owned land could be sold or otherwise conveyed to developers without a vote of the people. The town sought that power in order to streamline its Main Street redevelopment, a project that will give Avon a pedestrian core along the river and connected to Beaver Creek by a gondola.

Good concept, but the voters clearly want to keep some control. The next big decision at the polls is the May 20 referendum in which Minturn voters will decide whether to uphold a town council decision to annex the Ginn Companyís Battle Mountain project so the developers can build a private ski and golf resort and 1,700 new homes. Look for a story by realvail.comís Tom Boyd on that decision later this week.

And speaking of Boyd, he attended Coloradoís Congressional District 2 (CD2) assembly at Ranum High School in Westminster (near Denver) Saturday and reported that Eagle County Commissioner Sara Fisher introduced former state Senate majority leader Joan Fitz-Gerald, who rocked the vote by picking up 60 percent of the delegates.

In case you donít follow this kind of stuff, Eagle County is in CD-2 and Fitz-Gerald is running for the seat being vacated by Mark Udall, whoís running for U.S. Senate. Jared Polis, also a Dem, is challenging Fitz-Gerald in the primary Aug. 12, and he won 39 percent of the delegates, enough to land him on a crowded primary ballot where Will Shafroth is petitioning his way on.

Boyd reports Fisher acquitted herself nicely in the introductory role and that the room of 800 or so Dem activists was clearly energized by Fitz-Gerald. But Polis backers were calling their nearly 40-percent haul a good sign, too. Look for more realvail.com coverage of the key CD-2 races this week as well.

In the meantime, if you live in the high country or are planning a visit in the next couple of weeks, donít despair. All the snow and rain has made things lush and green, and the slow meltdown will mean a prolonged whitewater season. But the next person who says we need the moisture will be forced to watch MSNBC coverage of all seven remaining primaries on an endless loop.

Even the bluster of Chris Matthews canít melt this mess fast enough.


Comment on "Endless Vail winter parallels seemingly ceaseless political season" using the form below