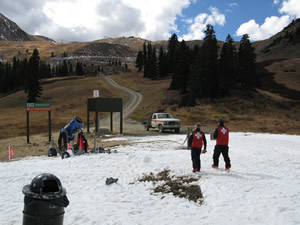 Scenes like this one at Arapahoe Basin on opening day Oct. 10 are common in the late fall, when Indian summer is still in play, but why waste the water when natural snow is left to melt in the spring?
By David O. Williams
Blog Tools
Comments
PermaLink
Vail marks a month without skiing but plenty of snow, calling fall snowmaking into question
By David O. Williams
May 13, 2008 — Wednesday marked exactly one month since Vail Mountain closed down its lifts for the season, and if you can find anyone in town who didn't flee to the desert of the beach weeks ago, they'll tell you it's been snowing hard seemingly every day since closing day.

Not quite. But Vail did close with its third-highest seasonal snowfall total since opening for business in 1962: a whopping 463 inches of snow, or more than 38 feet during the course of the ski season (Nov. 21 to April 13).

And while all but one resort, Arapahoe Basin, has called it quits for the season and therefore no resorts are keeping track of snowfall totals, there have been a number of major winter storms in the past month, including one the last two days that could dump up to another foot at Vail.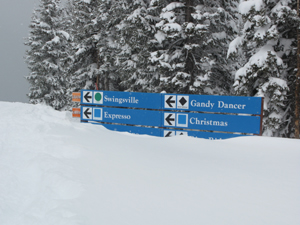 This was Vail Mountain on April 11, two days before closing, piled with record snowfall but all set to shut down for the season ... and it's been snowing ever since.

They have a name for April and May in the mountains, when the snow is falling fast and furious above 7,000 feet and the lifts have been silent and swinging in the wind for weeks: It's called mud season. Only this year the mud has been covered by lots and lots of snow.

That wasn't the case back in October and November, when snowmaking systems statewide were working overtime to suck up fresh Rocky Mountain stream water and blow faux snow on a few runs under sunny, 60-degree skies.

They have a name, too, for those overcrowded strips of icy manmade snow that barely qualify as skiing: the white ribbon of death. That ghoulish term took on a little more meaning this past ski season, with the state setting a new record for skier deaths at 17.

Some ski industry executives question off the record the wisdom of making such a huge marketing deal out of being the first state in the nation to open for ski business each season. When it doesn't happen, or opening dates are delayed as they were this past season, the industry looks bad.

Vail pushed back its opening day from Nov. 16 to Nov. 21 this past season because there was virtually no snow. Then in early December the jet stream dipped over the state, and storm after storm plastered Colorado's high country for months on end.

Arapahoe Basin on Oct. 10 was the first resort in the state to offer snow riding – the earliest opening in its 61-year history – but for nearly two months the conditions were high and mostly dry. Now A-Basin is still open with a 59-inch packed base and five inches of new snow as of this morning, but most people on Colorado's Front Range have moved on to golf and cycling season.

"Yesterday was 70 degrees [in Denver], so a lot of people think about moving on to the next sport or activity," said Nick Bohnenkamp, spokesman for Colorado Ski Country USA, an industry trade group. "I see where you're coming from with early-season conditions versus late-season conditions, but it boils down a lot to supply and demand."

And in late fall there tends to be a lot of pent-up demand. Some industry insiders say that's the result of marketing efforts aimed at stirring up interest at a time of year when the mountains are often in the grips of Indian summer. The proliferation of snowmaking systems since the 1980s has bolstered the expectation of early openings.

"There's a lot of publicity behind that race [to open early], and it gets the word out that Colorado is open for skiing or riding, so whether it's A-basin or Loveland or whoever opens first, it really helps the state as a whole," Bohnenkamp said. "It gets people thinking about skiing."

But Ryan Bidwell, whose Durango-based environmental group, Colorado Wild, heads up the Ski Area Citizens Coalition, said that race is a bit contrived.

"Snowmaking is one of the most energy-intensive things that ski resorts do in terms of the amount of electricity and water use during a time of year when there doesn't tend to be a lot of excess water around in the late fall, so it is an environmental concern," Bidwell said. "And it is just sort of a race from a marketing perspective to see who can open first or get the most terrain open first to steal some of those early-season-skier days."

But most Colorado ski resorts operate on federal land under special-use permits from the U.S. Forest Service. Those permits often call for resorts to shut down by certain dates in late April or early May.

"There is a reason that the Forest Service requests that ski areas close when they do, and that's so that as wildlife starts moving back up into the mountains, they have some reprieve from heavy recreational use during the springtime," Bidwell said.

A few resorts, such as Aspen Highlands, were able to stay open a couple of extra weekends because of the still-deep snowpack, but Vail had to shut down when it did because there simply weren't enough workers to keep things going.

So while a glance out the window reveals a scene straight out of January, most snow riders have visions of mountain bikes dancing through their heads, and their skis will stay mothballed till mid-October.


Comment on "Vail marks a month without skiing but plenty of snow, calling fall snowmaking into question" using the form below