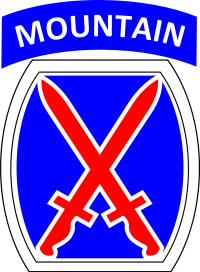 The jury is still out on whether Jim Pavelich, founder of the Vail Daily, will look to cross swords more with his new paper, the Vail Mountaineer. Pavelich came up with the name in part to pay tribute to the 10th Mountain Division troopers who founded Vail and much of Colorado's ski industry.
Blog Tools
Comments
PermaLink
Will Vail Mountaineer bring a new edginess to the valley media scene?
Pavelich invokes 10th Mountain memories in honor of Vail founders
By David O. Williams
May 15, 2008 — In the Vail Valley of yesteryear, where publisher Jim Pavelich first cut his journalistic teeth, no news really was good news.

Pavelich was a waiter with a million-dollar idea when he first launched the Vail Daily in 1981 as a mimeographed one-sheeter with a gossipy "Town Talk" section on the front page. Now he's launching a new newspaper called the Vail Mountaineer in June because "competition is good for everybody."

The University of Colorado graduate who occasionally skied on the Pro Mogul Tour wasn't big on controversy back in the day, but he didn't need to be. The competition was the eternally optimistic weekly Vail Trail, with the motto "Vail's Greatest Newspaper" beneath its flag.


Pavelich for the most part squelched locally generated opinion pieces, relegating the Vail Daily's commentary section to syndicated columnists and one time pulling a front-page story about a Vail ski executive stuffing the ballot box of a ski magazine reader survey.

The strategy worked, the paper thrived, and in 1993 he sold it along with the Summit Daily News to Reno-based Swift for untold millions (estimated by several sources as between $6 million and $8 million, although Pavelich to this day will neither confirm nor deny).

The Vail Daily in 2008, according to several sources with intimate knowledge of the company, is now a small-town paper with a big-time revenue stream (estimated at more than $12 million a year). It's part of a chain of corporate papers spread across the Central Rockies from Winter Park to Aspen.

Pavelich, in the meantime, took his money and headed west to the Bay Area, where he launched several successful free dailies, including the San Francisco Daily, which he still owns. But he always kept a house in the Vail Valley, in the posh gated community of Arrowhead, and even started the free Denver Daily News a few years back.

At a time when most newspaper publishers are downsizing, pulling back or shutting down, Pavelich – J.P. to everyone who still knows him in the Vail area – is expanding. In addition to the Mountaineer, he's launching a new free daily in Palo Alto, Calif., where he already started one paper then sold it to media giant Knight Ridder in 2005.

In California as well, Pavelich and his partners will compete with his former progeny, the Palo Alto Daily News, which he co-founded in 1995 with current Aspen Daily News owner Dave Danforth (who later unsuccessfully sued Pavelich for allegedly killing news story that might anger advertisers).

I first met J.P. in 1991 in the parking lot of Arapahoe Basin ski area, in an area known as the Beach. My brother and I sold Pavelich and his staff at the Summit Daily News a dozen or so cups and let them drink off our keg of beer.

Fresh out of J-school at Metro State College in Denver, I offered my services, and his first question in a later interview was not whether I could break the big stories or badger an uncooperative source into submission, but just how good a skier I was.

My tenure at the Vail Daily (1991-95 and again briefly in '97) was more like working for a college paper than reporting for my college paper had been, but J.P. sounds a little more serious these days. He's hired a former Vail Trail and Vail Daily reporter and editor named Stephen Lloyd Wood as the first editor of the Mountaineer, and he'll likely bring a decidedly conservative bent to the paper.

I hired Wood away from the Associated Press New Mexico bureau when I was editor of the Vail Trail after leaving the Daily, and he was a proud Republican back then. Pavelich has also hired self-proclaimed conservative and former clergyman Randy Wyrick, who worked for years at the Vail Daily, served briefly as editor of the Vail Trail and helped Pavelich found the Summit Daily News in Summit County. But Pavelich says his paper won't take political sides.

"I hate to label it," he said. "I think we're just going to try to cover the news and get the thorough story and people can judge for themselves."

But don't think it's going to be all news and no play. Pavelich had this requirement in a job post for his new paper on www.journalismjobs.com: "Tenacity and strong leadership skills are needed. It would also be convenient if you can appreciate living in one of the world's finest resort communities. Some people don't."

Pavelich's Vail Mountaineer, whose name is dedicated, he said, to the 10th Mountain Division soldiers who trained near Leadville and founded Vail, will launch with 5,000 copies by the end of its first week in mid-June and then bump up to 10,000 copies by July. He expects it will only be between 12 and 16 pages the first few weeks.

"We're not going to come out with an overwhelming product," Pavelich said. "We're going to come out with a small, well-produced newspaper."


1 Comment on "Will Vail Mountaineer bring a new edginess to the valley media scene?"