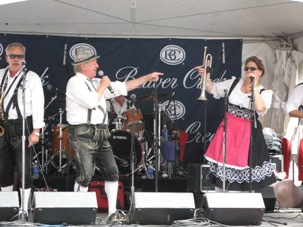 www.vailoktoberfest.com)." />
Local favorite Helmut Fricker directs the action on stage at the Beaver Creek Oktoberfest last weekend. This weekend (Sept. 7-9) and next (Sept. 14-16) itís Vailís turn, with celebrations slated for Lionshead and Vail Village, respectively (
www.vailoktoberfest.com
).
Photo by David O. Williams
Blog Tools
Comments
PermaLink
Teutonic good times in the high country
By David O. Williams
September 7, 2007 — Alanis Morissette would call it ironic, but I think itís merely coincidental, or at the most just a function of my subconscious. Iím talking about the fact that nearly 32 years ago I learned to ski near Garmisch, Germany, and now I live on Garmisch Drive in Vail.

These distant memories of my first Teutonic turns are stirred by back-to-back Oktoberfest celebrations this weekend and next in Vail, where all things Germanic and Austrian will froth to the forefront like the head on a stein of good Bavarian brew.

Our obsession here in Vail with lederhosen and sauerkraut is well-documented. Iím surrounded by houses in my new-old West Vail neighborhood (I lived just down the hill on Chamonix when I first moved to town) that have Tyrolean scenes painted on their half-timbered exterior walls.

Many of our founding fathers hail from the fatherland and we still maintain close ties Ė witness the robust sister-resort relationship between Lech-Zurs, Austria, and Beaver Creek. So we feel like we do Oktoberfest right, but the only way to find out for yourself is to head up for the official keg tapping in Lionshead at 6 p.m., Friday, Sept. 7.

The festivities rage on in Lionshead through the weekend, which weather forecasters say will be a spectacular one (high temps in the 70s and crisp autumn air to pump up your polka).
Saturday, Sept. 8, from 11 a.m. to 10 p.m., look for bands like Austrian Swiss Duo, Hustle, The Methods, the Rhinelanders and Helmut Fricker, activities like brat-eating contests, keg bowling and Kidz Zone, and food and drink like brats, wienerschnitzel and bier, bier and more bier.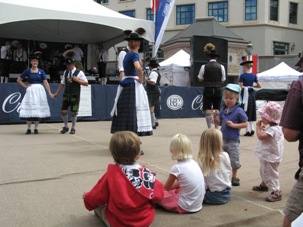 www. vailoktoberfest.com" />
Kids love this stuff. Oktoberfest in Beaver Creek last weekend was a hit with the younger generation. Look for them to be out in force this weekend and next in Vail. Go to
www. vailoktoberfest.com
Sunday, Sept. 9, from noon to 6 p.m., concludes the Lionshead festivities. Go to www.vailoktoberfest.com for more info and a complete sked. And if you miss the fest in Lionshead or just have to do it all over again, the same times apply Friday through Sunday, Sept. 14-16, in Vail Village.

Much like my distant memories of skiing in and around Garmisch in 1976 as a 10-year-old fifth-grader (my dad was in the U.S. Air Force stationed in Germany at the time), I also am able to conjure up vague recollections of my folks dragging my brother and sister and me to Munich for the real-deal Oktoberfest, which I think was actually held in October there.

I recall lots of bierhalls and loud singing, steins raised in endless ďprosts,Ē and generally being allowed to run around like a madman, virtually unattended, with my siblings leading the charge. It really is a kid-friendly kind of thing, with tons of dancing and kid events, while the adults can sit nearby, socialize and pound down the calories.

My wife and I took my three boys up to Beaver Creekís Oktoberfest last weekend (see photos) and had a great, backslapping good time, hobnobbing with locals and tourists alike. The Lech Band from Austria was in the house, along with Helmut and the gang, and believe me when I tell you that no pretzel was left unturned.

The Lech contingent comes over every year for Oktoberfest and then the World Cup ski races in late November and early December, then a bunch of Vailites head over there at various times of the year. Personally, I took my family to Lech-Zurs in March of 2006 following the Olympics in Torino, Italy, and it is an amazing place. Uncrowded, spectacular slopes, impeccable service and genuine hospitality, and just an unbeatable alpine vibe.
So if you head up this weekend or next for Vailís Oktoberfest and run into somebody with a feather in their felt cap, ask them if theyíre from Lech, then clink steins and let loose with a yodel.


Comment on "Teutonic good times in the high country" using the form below