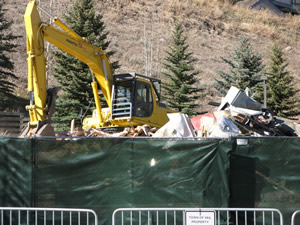 The site of the old Wendy's in West Vail will soon house a new fire station and more than 50 units of affordable housing.
By David O. Williams
Blog Tools
Comments
PermaLink
Workforce housing a hot potato from Vail to Aspen
By David O. Williams
May 22, 2008 — In Aspen they're calling it Burlingate, a cynical play on the name of the town's Burlingame affordable housing project, which in 2005 was approved by voters who may now be asked in November to approve bonds to make up for the town's $64 million mistake in an election brochure.

The pre-election Q&A brochure put costs of the project at $74 million, but now the project is being tabbed at $138 million to cover increased construction costs, infrastructure and land costs. Councilman Dwayne Romero, according to the Aspen Daily News, wants to get to the bottom of the debacle: "This is a fundamental question of trust and confidence in our city government."

In Vail and Eagle County, affordable workforce housing is an equally politically charged issue. The recently approved Battle Mountain project in Minturn will provide housing for 50 percent of the resort's workforce --- 25 percent of it either on the property or in the town – but Vail officials are concerned that will further deplete their pool of workers, many of whom live in Leadville, which is on the south side of Minturn and considerably closer to the proposed new ski and golf resort.


And further "down valley," as the locals like to say, west along Interstate 70 in the former sheep-herding haven of Wolcott (20 miles from Vail), developer Rick Hermes has reportedly entered into a agreement with the major landowners in the area, the Jouflas family, to begin master planning for an undisclosed number of workforce and local's housing units on 2,600 acres of land.

His only promise thus far, according to the Vail Daily? "No big boxes!" That's a reference to the proliferation of Wal-Mart Supercenters, Home Depots and Costco's between Avon and Glenwood Springs.

And in Vail proper, the town council Tuesday moved forward with a transit center on Vail Resort's North Day Lot parcel, clearing the way for the ski company to finally start building approximately 120 units of affordable housing displaced by its Arrabelle project. The town is also planning more than 50 affordable units on the Wendy's/Chamonix lot in West Vail.

Meanwhile, the political hot potato of town's Timber Ridge complex, which desperately needs redoing, is still out there, apparently being planned into oblivion.


Comment on "Workforce housing a hot potato from Vail to Aspen " using the form below