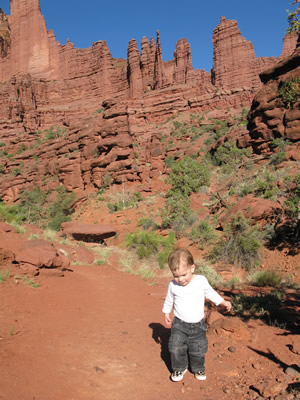 The blogger's youngest son stretches his short legs on the trail up to Fisher Tower near Moab, Utah.
By Nicholas Williams
Blog Tools
Comments
PermaLink
Moab then and now: mountain-biking memories of an aging Vail ski bum
By David O. Williams
June 9, 2008 — Funny how differently you roll after a decade and a half living in a ski town.

The fam and I had hit that have-to-get-out stage of the spring Friday after a punishing stretch of work and school and one last blast of near-winter on Thursday, so we packed up the car and headed to Moab, Utah, for a quick weekend getaway.

While the experience was completely different, for obvious reasons, this past weekend's trip was a blast from the past in that we retraced all the stopping points from my misspent youth in Vail.

Much as former Vail Daily editor Andy Hood and I did in 1991, when he asked me if I'd ever mountain biked in Moab and, like the newbie that I was, I said "No, but it sounds fun," the wife and kids and I threw a ton of stuff in the car and headed west on Friday afternoon.

Back then I think I was driving a Honda Accord hatchback with 150,000 miles and a jerry-rigged bike rack. Needless to say, my ride these days has upgraded slightly. But the route was the same: we jammed hard and fast on I-70 till we hit Cisco and then headed due southwest on the scenic route along the Colorado River.

(Some kid recently torched the historic Dewey Bridge, at one time Utah's longest suspension bridge, so if you're taking the route looking for that, don't bother.)

Incredibly, while I'd admired the area from afar, I'd never stopped at Fisher Tower, so we stopped to stretch our legs and wound up "hiking" a mile or so with my 18-month-old son Rennick taking what had to be his first real hike – certainly his first real desert hike.

Then we headed into Moab at a decent hour for a relaxing evening in a plush three-bedroom condo very near to the Main Street strip. This differed significantly from how Hood and I would roll into town.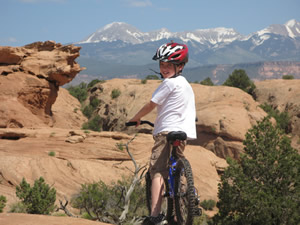 Eight-year-old Nick Williams, who took the above photo of his younger brother Rennick, takes a break while riding the Slickrock practice loop above Moab.

Typically we would arrive around midnight or even later after hammering out the Daily till 9 or 10 p.m. (we didn't wait for all the latest AP sports back then). We would sometimes camp up at the Sand Flats Recreation Area campground near the famous Slickrock bike trail.

Beer cans spilling out of our car, we would immediately break out a guitar and annoy the hell out of anyone in ear shot, then rise bleary-eyed the next morning to take on what in the day was one of the most daunting mountain bike tests going, or so we thought.

My mind was blown the first time I rode Slickrock's practice loop, sans front or rear suspension (remember, these were the Dark Ages of the sport), and I think I remember taking some seriously nasty spills.

So it was with some fairly significant reservations Saturday that we took my oldest son Nick up to Slickrock, where he would ride (with the benefit of front suspension) and the rest of us hiked the 1.7-mile practice loop. Even the short loop is not recommended for novice riders or the ill-equipped, but Nick, 8, is neither.

He did Vail Mountain Bike Camps with former pro rider Mia Stockdale last summer (and will do it again this summer) and has been riding our local trails (mostly the North Trail in West Vail) fairly hard all spring.

He sized up the steep climbs and perilous descents of Slickrock on Saturday and charged right in. One crash early on got that out of his system and the rest of the ride he showed great judgment dismounting when he should have and generally keeping things under control.

Other contrasts between the then-and-now include the fact that our condo had a very nice pool this past weekend and as a hairball sports editor in the 90s my pool was generally the mud and muck along the bank of the Colorado.

We did hit Eddy McStiffs this weekend, a usual stop for Hood and I back in the day, but the quantity of beer consumed was dramatically lower.

Anyway, we wrapped the weekend up with a scamper up to Delicate Arch in Arches National Park, me carrying Rennick most of the way and sometimes even having to hoist my four-year-old son Max up on my shoulders.

It was as stunning as I remember, despite the enormous crowds of German and Japanese tourists (Edward Abbey is doing barrel rolls in his grave), and a great capper to the weekend.

It's incredible to see the wonder of the place through the eyes of my three boys, and awesome to revisit Moab from the perspective of a child, instead of acting like one myself the way we did back in the day (although that had its moments, too).


1 Comment on "Moab then and now: mountain-biking memories of an aging Vail ski bum"