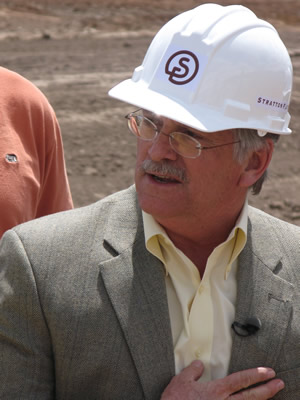 Blog Tools
Comments
PermaLink
Conservative Vail-area blog calls for axing of commissioner Runyon's TV show
Fellow commissioner Menconi asks alleged blogger Buckley to give ECO TV a more conservative voice
By David O. Williams
June 10, 2008 — EagleCountyTimes.com, an anonymous conservative blog site in the Vail Valley, has requested that Democratic Eagle County Commissioner Peter Runyon, who is running for re-election in November, stop appearing on the county-funded ECO TV public access channel.

In an anonymous e-mail last week to the commissioners and county attorney Bryan Treu, staff@EagleCountyTimes.com objected to "use of taxpayer funded ECO TV for Peter Runyon, during Peter's election campaign." Runyon, who hosts "Up Front With Commissioner Peter Runyon" is running against Republican and former county commissioner Dick Gustafson.

The e-mailer went on to say "the Staff" didn't have a problem with the two other commissioners not running for re-election, Democrats Arn Menconi and Sara Fisher, continuing to host news programs on ECO TV, although they did object to programs about Menconi's "pet project," SOS Outreach, a nonprofit group that provides snowboarding lessons to at-risk youth.


In an e-mail obtained by realvail.com, Menconi responded to former Avon Town Councilman Peter Buckley, whose wife, Republican Debbie Buckley, is running against Democrat Jon Stavney in a bid to replace the term-limited Menconi for one of the other county commissioner seats up for grabs:

"It has been alleged that you are the writer of the Eagle County Times by several Republican elected officials," Menconi wrote to Peter Buckley. "I am looking to interview a conservative voice in Eagle County for my ECO TV and wondered if you would be interested? I wouldn't charge you and [would] let you discuss topics that others might think are pet projects."

Staff@EagleCountyTimes.com, in an e-mail dated June 6, wrote back: "Staff is actually several people. Staff would prefer a quick, professional, polite, resolution to this issue. If any candidate wants to pay for an ECO TV television ad, no problem; it's when taxpayer money gets used, that's when the concerns start. Yes, Staff has already spoken to a Denver attorney about this."


Comment on "Conservative Vail-area blog calls for axing of commissioner Runyon's TV show" using the form below