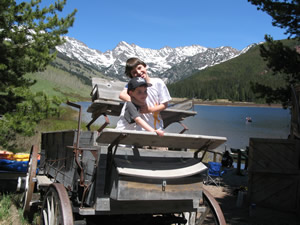 Blog Tools
Comments
PermaLink
Vail's best-kept summer secret, Piney River Ranch, opens for the season
By David O. Williams
June 17, 2008 — I got a little Father's Day Eve surprise on Saturday when the fam blindfolded me, stuffed me in the back of the SUV and headed up the wash-boarded dirt road known as Forest Road 700 north of Vail (it starts out paved as Red Sandstone Road).

In part they were trying to surprise me with a pre-Father's Day fiesta, but mostly they were so tired of my grumpy butt they just felt like restraining me and taking me for a tortuously bumpy ride in the back woods of Vail.

But 13 miles or so later it turns out they had a destination in mind. They opened up the hatch of the family four-by-four and tossed me on the tumble-weed-choked tarmac in the car corral of Piney River Ranch.



The ranch opened Saturday for the first day of summer season, and it had been a couple of years since I'd been up to this hidden gem just outside of Vail but deep in the heart of the unheralded but spectacular Gore Range.

Three or four hours of all-you-can-eat barbeque ribs, a couple of Coronas, canoeing on Piney Lake with the boys, a little live guitar and a couple of laps on a pony named Possum and all my grumpiness had been set aside and I had readjusted my mental state back to what it means to live in the heart of the Colorado Rockies.

For more info on Piney River Ranch and all it has to offer, go to www.pineyriveradventures.com.


Comment on "Vail's best-kept summer secret, Piney River Ranch, opens for the season" using the form below