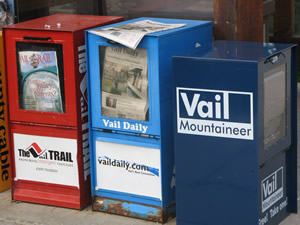 Blog Tools
Comments
PermaLink
Vail Valley newspaper war set to heat up this week
Vail Mountaineer likely to ratchet up the conservative rhetoric in Eagle County
By David O. Williams
June 18, 2008 — A full-blown newspaper war will reportedly blow up in Vail and surrounding Eagle County Thursday when the new five-day-a-week Vail Mountaineer launches to compete with the seven-day-a-week Vail Daily.

New boxes have hit the streets and several sources say the Mountaineer, published by Vail Daily founder Jim Pavelich, launches Thursday. Pavelich sold the Daily to current owner Swift Communications in 1998. There has not been a competing daily in Vail since the Daily Trail stopped publishing in 2000.

I was the editor of the Daily Trail, the last, and only, daily paper to take on the Vail Daily. And I also worked for Pavelich when he still owned the Vail Daily in the early '90s. Pavelich tells me the Mountaineer won't have a conservative slant, but his hires indicate otherwise.


One of those hires includes former Vail Trail editor and Vail Daily staffer Randy Wyrick, a conservative former clergyman who is pictured this week on the homepage of EagleCountyTimes.com, the anonymous "conservative voice in Eagle County."

In an accompanying article, a staff writer jokes that the Eagle County Time's "American Patriot Test" was used by Pavelich to "weed out any prospective 'lib media types,'" then asks, "What was your score, DOW?" That's apparently a reference to me and the admittedly more moderate news-blog hybrid, realvail.com.

For the record, I didn't take the test, available by clicking here, but am confident I would have failed with flying colors.

"As strange as it sounds, a lot of people had told me that the Vail Daily was too far to the left and other people had told me it was too far to the right, and so once you start labeling a paper it gets very confusing," Pavelich told me in an earlier interview. "We hope that we're not viewed either way."

Local media observers I've talked to are eager to see if the Mountaineer's first edition leads with a story on the Eagle River Fire Protection District's ongoing efforts to condemn Pavelich's one-acre lot in Avon, where he said he had hoped to build a restaurant, stores and affordable apartments.

The fire district wanted the land along I-70 for a new station, but Pavelich, who bought the property for $527,000 in 1993 and is being offered $2 million by the fire district, said the case was not the motivation for the Mountaineer.

"That was going to be my project for the foreseeable future, and that opportunity was taken away from me by the fire district, and so [the Mountaineer] is my next option," Pavelich told me. "So it's a result of it; it's not a reaction."

In other local media news, Steve Pope, general manager of Swift subsidiary Colorado Mountain News Media, claims he scored one for democracy Tuesday when he successfully argued to the Vail Town Council that it should not change the town charter to allow new and proposed laws to be published only online and posted in a public place instead of printed in the Vail Daily at an annual cost of $20,000.

In an earlier meeting I had argued that printing nine pages of ordinances in 9-point print was an archaic notion, offering up the much-less-expensive services of realvail.com to get the word out and to help drive traffic to wherever the laws are posted online – the town's site or other news sites. Several council members said the older residents of Vail still like their laws in fine print in the local newspaper.


1 Comment on "Vail Valley newspaper war set to heat up this week"