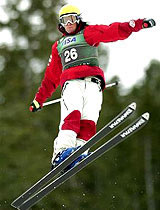 Jeremy Bloom may try to fly high at the Olympics one more time if he can't land a starting spot on an NFL squad.
Courtesy U.S. Olympic Committee
Blog Tools
Comments
PermaLink
Jeremy Bloom may make another run at Olympic skiing glory
Former CU football star takes one last shot at landing on NFL squad
By David O. Williams
June 23, 2008 — Former Ski U star Jeremy Bloom told 9News Sunday night there's a chance he could return to the ski world if this whole NFL thing doesn't work out.

Bloom, the GQ mogul skier from Loveland who grew up pounding the bumps at Keystone and went on to star at CU as a jaw-dropping kick returner and wide receiver, is in training camp these days trying to secure a spot on his second NFL squad, the Pittsburgh Steelers.

Drafted by the Philadelphia Eagles after finishing sixth at the Torino Olympics in 2006 (behind bronze medalist Toby Dawson of Vail), Bloom told 9News he's fully focused on landing a spot on the Steelers squad after a hamstring injury sidelined him for the Eagles most of last season.


But at 5-foot-9 and 180 pounds, the lightning-fast Bloom seems realistic about a long-term football career. He told Denver's NBC affiliate that there is a possibility he could go for the gold again in Vancouver at the 2010 Winter Olympics. It would be his third Olympic Games (he finished ninth in Salt Lake City in 2002).

An MTV host, magazine model and ski-film star, Bloom had five touchdown plays of more than 75 yards when he starred at CU and won three world championship medals as a skier. He left the Buffs when he got into a dispute with NCAA over his ski endorsements.


2 Comments on "Jeremy Bloom may make another run at Olympic skiing glory"