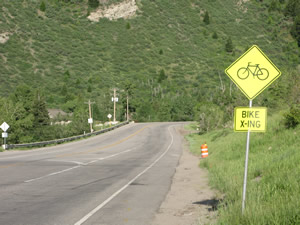 U.S. Highway 6 between Eagle-Vail and Minturn is finally open - or at least it was Monday evening at 6:30. Here's the photographic evidence.
By David O. Williams
Blog Tools
Comments
PermaLink
U.S. Highway 6 near Vail: I was there for the opening ... I think
Road shut down by retaining wall collapse opens to through traffic Monday
By David O. Williams
June 23, 2008 — Just to show that newsgathering is often just a matter of right place, right time: this just in! U.S. Highway 6 between Minturn and Eagle-Vail in Dowd Junction is back in business after being closed to through traffic both ways for a couple of months.

I discovered this at about 6:30 p.m. Monday while trying to get some photos of the wildlife underpass at the western end of Dowd Junction. My boys and I parked in the middle of the canyon where a row of orange Colorado Department of Transportation barrels has blocked off traffic for weeks following a mudslide and the collapse of a retaining wall.

We walked a long ways to the west, snapping photos of kayakers in Dowd Chute and generally having a good time, but then everyone pooped out and we headed back before reaching the wildlife underpass where critters can safely travel under the road from the river drainage up into the woods above Eagle-Vail or Meadow Mountain or vice versa.

When we got back to where our car was parked all the barrels were gone and traffic was zipping by in both directions. So we jumped in the car and drove over to the wildlife underpass and snapped a few photos.

Not sure if the opening is permanent – there's still tons of machinery and lots of work to be done – but it was nice for at least one night.


Comment on "U.S. Highway 6 near Vail: I was there for the opening ... I think" using the form below