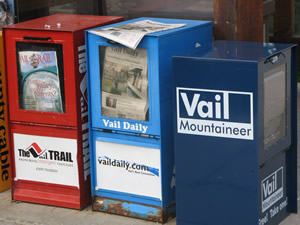 The Vail Mountaineer boxes are in a number of prime locations throughout the Vail Valley, taking on the Vail Daily head to head.
Blog Tools
Comments
PermaLink
Vail Mountaineer enters its first full week of existence
New Tuesday through Saturday, five-day-a-week paper takes on the Vail Daily
By David O. Williams
June 24, 2008 — Newspaper publisher Jim Pavelich may have been a day late last week, but rarely has he been a dollar short.

The free-daily pioneer and former ski bum who first started giving away his one-sheet Vail Daily in 1981 and sold it for millions 13 years later is back in the Vail market, taking on his former startup with the new five-day-a-week Vail Mountaineer, which launched last Friday. Pavelich also owns the Denver Daily News.

The Mountaineer was supposed to launch Thursday but came out the next day due to "computer problems," Pavelich said. It hit the streets Friday with a scant eight pages Pavelich promises will grow over time.

The first issue led with a story on the Eagle County Commissioners waffling on huge property tax increases as the result of a big jump in assessed home values last year. The Mountaineer reported the commissioners may now seek some sort of tax rebate after initially declining to adjust the mill levy to decrease property taxes.

Higher property taxes have become an election-year issue, with two of the three commissioner seats up for grabs, and an anti-tax citizens group has formed to watchdog the commissioners.

In an amazing show of restraint, the Mountaineer, headed by a pair of conservative longtime local journalists, waited till its second issue to lead with Pavelich's pet issue: an attempt by the local fire district to condemn a one-acre parcel of land he owns in Avon for a new fire station.

Pavelich bought the property for $527,000 in 1993 and was being offered $2 million for it by the fire district, but he had lawyered up and was going to fight the allegedly unjust land grab because he wants to build a restaurant, stores and apartments on the land. Despite local speculation to the contrary, he said the case was not his motivation for launching the Mountaineer.

"[The development] was going to be my project for the foreseeable future, and that opportunity was taken away from me by the fire district, and so [the Mountaineer] is my next option," Pavelich said. "So it's a result of it; it's not a reaction."

The Mountaineer reported Saturday that the fire district had made an offer on a different parcel of land, a development first reported in the Vail Daily earlier in the week.


Comment on "Vail Mountaineer enters its first full week of existence" using the form below