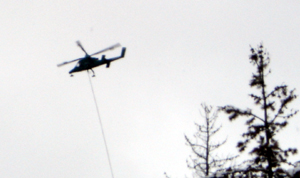 This helicopter buzzed Vail's Matterhorn and Intermountain neighborhoods for week last summer.
By Tom Boyd
Blog Tools
Comments
PermaLink
Log chopper returns to skies over Vail
Helicopter to begin once again removing downed beetle-kill trees
By David O. Williams
June 25, 2008 — A black helicopter will once again be buzzing over West Vail starting today, and it has nothing to do with the chemtrail guy the Vail Daily has made into a minor local celeb.

In fact, the helicopter might not even be black, but it made the above lead work better. It's a logging chopper that will be lifting downed beetle-kill trees and delivering them to a staging area where they can then be trucked off to a wood-pellet plant in Kremmling.

This is third year in a row the town has used helis to get rid of some of the dead trees above town, and the initial operation this summer will last at least a couple of days.

Speaking of mills (rumor versus lumber), which I actually wasn't (it just made for a nice transition), the local rumor mill failed me miserably on the Tiger Woods front.

Rumored to be returning to the Vail Valley, this time for surgery, not skiing, Tiger actually stuck to the Park City doc who's done his last couple of surgeries. He underwent reconstructive surgery in Utah Tuesday and will miss the rest of the season.

Finally, some deep investigative digging (I read the sign) revealed that U.S. Highway 6 between Minturn and Eagle-Vail is only open at night (from 6:30 p.m. to 6:30 a.m.) during ongoing construction to fix a retaining wall.

Comment on "Log chopper returns to skies over Vail" using the form below