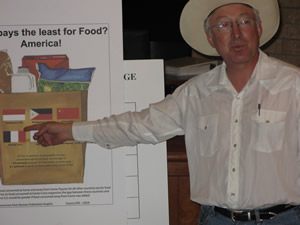 Colorado Sen. Ken Salazar discusses the finer points of the $285 billion farm bill he helped pass recently. Salazar spoke in Eagle Tuesday.
By David O. Williams
Blog Tools
Comments
PermaLink
Sen. Salazar says help is on the way on Vail Valley's most pressing issues
Dems will eventually fix Iraq War, beetle kill, I-70 congestion, shortage of worker visas
By David O. Williams
July 2, 2008 — Colorado Sen. Ken Salazar Tuesday in Eagle promised the cavalry is on its way in November: a wave of Democrat lawmakers and a chief executive set to save Colorado voters from rampant pine bark beetles, the ongoing financial drain of the Iraq War and a labor shortage exacerbated by antiquated immigration laws.

Speaking to a small gathering at the Eagle County administration building, Salazar kept telling constituents that progress on everything from energy independence to ending the shortage of worker visas for labor-starved resort markets to fixing I-70 gridlock will come once Sen. Barack Obama is in the White House and Democrats pick up more seats in both houses of Congress.

But it all starts, Salazar said, with the United States turning over control of Iraq to the Iraqis and weaning America off oil from volatile areas of the world. "We now are hanging at the end of a very long noose because of our addiction to foreign oil," Salazar said.

Meanwhile, the debate still inexplicably rages in Washington over the very existence of global climate change and the need to domestically drill ourselves out of the current energy crisis.

With some of the nation's top spies testifying before Congress last week about a 58-page report entitled "The National Security Implications of Global Climate Change Through 2030," there seemed to be a major elephant in the room, although not an Indian one (they're endangered).

A growing chorus of voices in the Bush administration's own intelligence community is now calling for global climate change to at least be a part of long-term military and intelligence strategic planning, but Bush himself seems determined that part of his legacy will be lifting the nearly 30-year ban on offshore oil drilling on his way out the door.

The latest intelligence report, coupled with a report last year by a panel of retired three- and four-star generals, comes to the rather obvious conclusion that global climate change could destabilize already volatile areas of the world, displacing their populations, prompting food shortages and generally creating a far more fertile environment for terrorism and armed conflict.

So while reducing our dependence on oil from those parts of the world seems like a swell idea -- even if it's up for debate just how much that dependence would be reduced -- anything that contributes to global climate change seems a tad unpatriotic these days. In other words, if you're not against global climate change, you're for global climate change, right?


Comment on "Sen. Salazar says help is on the way on Vail Valley's most pressing issues" using the form below