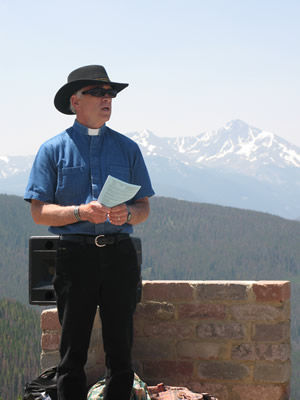 Pastor Carl Walker of the Mount of the Holy Cross Lutheran Church delivers his final mountain-top sermon Sunday atop Vail Mountain with Mount of the Holy Cross as a backdrop. Walker is retiring after 15 years in Vail.
By David O. Williams
Blog Tools
Comments
PermaLink
Pastor Carl Walker retires with a simple message: 'I am for you'
By David O. Williams
July 14, 2008 — "I am for you."

With those four words, Pastor Carl Walker of Vail's Mount of the Holy Cross Lutheran Church -- with the 14,005-foot peak his congregation is named for as a backdrop -- brought 15 years of service to the Vail Valley to a close with his final mountain-top sermon Sunday.

Walker and his wife Ruth, who has stood by his side and accompanied him on piano and organ since the Walkers first took over for church founders Don and June Simonton in 1993, are retiring, although they're staying in the valley at their new home near Gypsum.

The Simontons were in attendance Sunday, and the Walker's family from around the world joined an overflow congregation at the amphitheater atop the gondola on Vail Mountain as the music of Pat Hamilton and the perfection of a July day above 11,000 feet set the stage for a bittersweet but understated goodbye.

Walker drew chuckles by telling the gathering he worries he'll be questioned at the pearly gates because, after living in Vail and perhaps being one of the few clergymen in the country paid to climb mountains and cross-country ski with his flock, St. Peter will surely wonder if the pastor has already had his reward.

And then Walker told the story of his bid to climb Mount Kilimanjaro in Tanzania three years ago, when he became sick with a case of pulmonary edema and was forced to back off Africa's highest peak with a single local guider shepherding him to safety.

Gurgling and spitting up blood, Walker was distressed to learn he'd have to climb back up numerous false summits, then back down several times in order to get to the safety of a lower elevation. When he expressed his thanks to his guide but said he didn't think he could go any further, the guide replied simply, "I am for you."

And those words made Walker realize with the crystal clarity of his predicament that "I am for you" really gets at the heart of his relationship with God and the message he has been trying to impart for nearly 40 years.

"I am for you" is a sense of service and commitment to others that should drive all our actions and would certainly compel a much greater good in the world if it were only practiced a fraction more by all of us.

It seems a message even more fitting with the nation at a crossroads and two presidential candidates presenting two very different paths for the country but both calling for greater volunteerism and a deeper spirit of service to others.

No one has better embodied that spirit in Vail, a place already deeply imbued with a very charitable and giving sense of community, than Pastor Carl Walker. The Walkers will be greatly missed on Sundays.

But Carl Walker's message will continue to resonate: "I am for you."


1 Comment on "Pastor Carl Walker retires with a simple message: 'I am for you'"