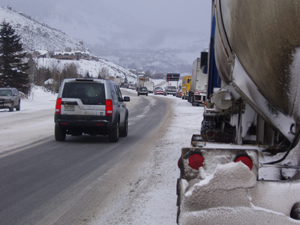 Blog Tools
Comments
PermaLink
Politics of parking in Vail get more tangled by the day
Waiting on parking structures not the most viable option at this point
By David O. Williams
July 16, 2008 — The politics of parking continue to generate headlines in Vail, where a homeowners group recently suggested the town should consider banning overflow parking on its frontage roads during the ski season. Meanwhile, ambitious plans to create more parking-garage spaces seem stalled by the flagging real estate market.

The roads paralleling Interstate 70 are maintained by the Colorado Department of Transportation -- which has made it clear a ban is a local issue they don't care to weigh in on. The roads provided nearly 50 days of overflow parking for more than 14,000 cars on days when the two town-owned parking garages filled up last ski season, or an average of about 320 cars a day.

Members of the Vail Village Homeowners Association say the mere suggestion of a ban, which they feel may be needed for safety reasons, to improve the overall guest experience and to encourage skiers to use mass transit, could be all that's needed to prompt developers such as Vail Resorts to build more parking garages and to rent out private spaces at a premium on the busiest days.

But some town officials say a parking ban would be economic suicide in a recession, when Vail needs to be doing all it can to welcome skiers beleaguered by soaring gas prices and a shrinking pool of discretionary dollars. Other town officials fear someone will be killed parking on the shoulder of the frontage roads, where several car doors have been torn off by passing motorists in the past.

Meanwhile, the homeowners association would love to see the whole problem go underground. The group in the past has pushed for burying the interstate under a massive tunnel through the length of the town and building more homes atop the new tunnel. It's unlikely that solution will be online for next ski season, or perhaps for another 50 years, at which point snow skiing may be a relic of global warming.

More immediate solutions, like burying all the parking in the Lionshead Parking Structure underground (adding hundreds more public spaces in the process) and capping it with a convention complex, a couple of luxe hotels and scads of plush condos, shops and restaurants, seem to be tantalizingly within grasp but stalled by politics, the waning real estate market and are years away from solving immediate parking woes anyway.

The Vail Town Council voted 6-1 Tuesday night to let Texas developers Open Hospitality/Hillwood Capital, the deep-pocketed folks who built the American Airlines complex in Dallas that's home to NBA and NHL teams and tons of shopping, hotels and condos, to move ahead with their project plan for the Lionshead Parking Structure.

Here's the problem, though: Vail Resorts, which donated the land the garage sits on to the town back in the day, holds a deed restriction on the property and therefore has veto power over what's essentially a competing project for their proposed Ever Vail ski village in West Lionshead.

Most everyone in town agreed the parking structure for Ever Vail needed to be up and running before anything happened to the Lionshead garage, but Vail Resorts seems to be in no hurry on their project, and the downturn in the real estate market suggests they're wise to take their time. And VR seems unlikely to release its deed restriction without something truly significant in return and before Ever Vail has at least turned dirt.

The off-site alternative parking question may have been resolved Tuesday when Open/Hillwood presented a three-phased construction process that increases public parking from 1,150 spaces to 1,770 and adds another 379 private spaces, but the deed restriction still remains a major sticking point.

Open/Hillwood's Mark Masinter is also looking to bring a Central Hockey League franchise to town, and would love to redevelop the aging Dobson Ice Arena next door to the Lionshead Parking Structure.

At least on paper his group is extremely committed to making something dramatic happen in Vail -- moves that would only benefit Vail Resorts and vastly improve the ski company's guest experience. VR needs to drop the obstructionist stance and work with these guys to get something done.

In fact, in a perfect world there would be a triangle formed by the town (including the Vail Recreation District), the ski company and the Texas developers that would master plan the entire Dobson/Lionshead Parking Structure area to include a new hockey arena, convention complex, even more parking and possibly a a rec center ... along with all the shops, condos and hotel rooms.

Put a package on the ballot and include the tax money collected for a convention complex that never happened several years ago, so the developers can then build a transit center. Of course, even if that fantasy scenario came to fruition, the parking would still all years away.

Meanwhile, parking will continue to be a problem for years, no matter what happens in the whole Lionshead/Ever Vail saga. Creating 500 new spots around town on various lots and increasing shuttle service to those outlying areas, which is what's under way for next season, will help. But everyone involved needs to be even more aggressive.

Banning parking on the frontage roads would cause a negative backlash of epic proportions, so let's get serious about park-and-ride solutions in down-valley lots and places like Meadow Mountain and Vail Pass.

Parking way away from the resort and riding a bus in is not uncommon. Check out virtually any of our competitors on a busy Saturday and you'll see what I mean. I live in West Vail and take the bus, so I don't want to hear it from people who have to have their car a few hundred yards away. Bring a backpack and stick your extra socks in it so you don't have to run back to the car.

Face it, America, you can Euro-bash all you want, but mass transit is a reality in all of our futures, so get used to. Nor do we need $20 million parking structures when we jump off our buses with our skis (as is being proposed for North Day Lot in Lionshead).

The Vail Village transit center works just fine, and, in fact, all we really need is bus stops. If we have to have more of a transit facility in Lionshead (instead of spending that money on our number-one need, affordable housing, which is what we should be doing), put it at the new Lionshead development (if it ever happens) or Ever Vail (if it ever happens).


Comment on "Politics of parking in Vail get more tangled by the day" using the form below