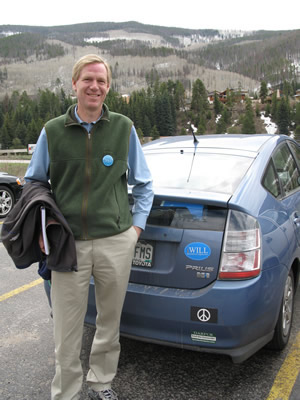 Blog Tools
Comments
PermaLink
Will Shafroth get a bounce as Polis, Fitz-Gerald go to blows?
CD2 race, Vail's congressional district, keeps getting costlier, uglier
By David O. Williams
July 21, 2008 — The money just keeps pouring into the hotly contested three-way 2nd Congressional District primary race between Democrats Joan Fitz-Gerald, Jared Polis and Will Shafroth, and the rhetoric in recent days has turned from heated to downright ugly.

According to second-quarter financial reports filed last week, one of the costliest congressional primaries in Colorado history just keeps getting more and more spendy. The largely left-leaning district that includes Vail and Eagle County but is anchored heavily by its largest population center of Boulder is a virtual lock for the Dem who claims the Aug. 12 primary.

Polis, Internet entrepreneur and former head of the state school board, won the second-quarter fund-raising race at $3.19 million (mostly in the form of contributions to his own campaign) and has outspent his opponents by a ratio of about 10-to-1, flooding the airwaves with TV commercials and mailboxes with glossy flyers. Polis has reportedly spent about $2.6 million so far, with just over three weeks to go till the primary.

Fitz-Gerald, the former state Senate president and Jefferson County clerk, raised $422,590 in the second quarter, and Shafroth, a conservationist who used to head up Great Outdoors Colorado, raised a little more than $280,000.

So far the three candidates have raised nearly $7.7 million, with Polis accounting for nearly $5 million of that ($3.6 million from his own coffers). With no official polling data available, it's unclear who the front-runner is at this point.

The Polis campaign, however, has continued to up the ante, criticizing Fitz-Gerald for contributions from mining conglomerates with spotty international environmental and human-rights records. Last week, the Polis camp sent out flyers detailing contributions totaling $6,400 to Fitz-Gerald from AngloGold Ashanti Mining and Newmont Mining.

Fitz-Gerald's campaign fired back late last week that Polis continues to pump money into a mutual fund called Evergreen Precious Metal Holdings – with holdings in mining firms with equally spotty records -- to the tune of between $100,000 and $250,000. And the Fitz-Gerald camp also called attention to a recent Wall Street Journal storycritical of Polis.

Shafroth, meanwhile, stayed out of the fray, garnering a story to that effect in the Rocky Mountain News and an endorsement from the editorial board of the more conservative of the two Denver dailies, although one comment on the paper's Web site suggested the endorsement of the underdog who petitioned his way on the ballot was meant to give Republican Scott Starin a better chance in November. Like the GOP pulling for Hillary to get the presidential nod.

That seems unlikely. I think Shafroth would win in a walk in this district (hell, I could probably take it), but it remains to be seen if he'll get any sympathy votes based on the mudslinging of Polis and Fitz-Gerald.







Comment on "Will Shafroth get a bounce as Polis, Fitz-Gerald go to blows?" using the form below