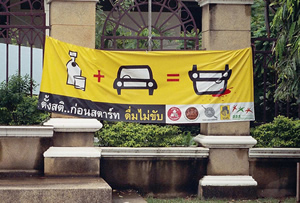 This anti-drunk-driving banner in Thailand seems to say it all. The Steamboat sheriff (and former Vail chief of police) apparently hasn't seen it.
Flickr
Blog Tools
Comments
PermaLink
Tough times for former Vail Valley officials in Steamboat
Ex-Vail top cop convicted of DWAI; former Minturn manager out of Steamboat job
By David O. Williams
July 23, 2008 — Last week was a rough one for former Vail Valley government officials now working in Steamboat Springs.

Former Vail police chief and current Routt County Sheriff Gary Wall was convicted of driving while ability impaired (DWAI), and former Minturn town manager Alan Lanning was sent packing as Steamboat town manger by the Steamboat Town Council.

Then last weekend in nearby Oak Creek, former mayor Kathy "Cargo" Rodeman was arrested for suspicion of DUI and resisting arrest, but only after police first used a Taser on her. As far as RealVail can determine, Rodeman has no previous Vail Valley connections.

Wall, though, definitely does. After first serving as a police officer in Aspen, Wall came to Vail in the early '70s and was the Vail police chief from '73 to '79. During that time he hired Dick Cleveland, now an investigator with a our district attorney's office, and also the current Vail mayor.


A jury of six last Wednesday found Wall guilty of DWAI, failing to dim his headlights and prohibited use of a firearm, according to the Steamboat Pilot & Today newspaper.

Wall originally faced a more serious charge of driving under the influence after an October traffic stop by a Colorado state trooper who pulled Wall over following a Steamboat chamber of commerce event. Wall, who said he had just one glass of red wine at the event, reportedly refused to perform roadside sobriety tests and did not submit to blood-alcohol testing.

The Pilot reported the most damaging testimony from the three-day trial came from sheriff's deputy Lance Eldridge, who drove Wall and wife home after the state patrol stop. Eldridge last Tuesday said he would have arrested Wall that night, based on his observations of the sheriff's condition. Eldridge reportedly resigned from the sheriff's office Tuesday night after testifying.

The Pilot also reported an official with the state's Peace Officer Standards and Training Board said that Wall's conviction likely would not affect his status with the state. The article also noted Wall can only be removed from office through a recall election.

Nothing criminal in the Lanning case. The former Minturn manager who was hired by a previous council in Steamboat in 2006 appeared to have management-style differences with the new council. According to the Pilot, he didn't resign and he wasn't fired, and the council approved a hefty severance package. Correct me if I'm wrong, but isn't Minturn again searching for a town manager? Just a thought.

The Oak Creek case appears to be loaded with a lot more intrigue.

Rodeman, mayor of Oak Creek from 2002 to 2006, allegedly eluded police who tried to pull her over for suspicion of drunk driving early Saturday morning, according to a story in The Pilot.

Rodeman and other passengers in the car then stopped and quickly went into an Oak Creek residence, where another woman allegedly slammed the door in the face of the Oak Creek officer who tried to make the traffic stop. The officer said he injured his back in the incident and had to get medical treatment.

But that was after he reportedly called in backup, entered the home and subdued Rodeman using a Taser. Rodeman's attorney told the newspaper that the arresting officer has a history of citizen complaints. Comments on the paper's Web site ranged from support for the police to accusations that the town's cops are out of control and regularly harass residents.


Comment on "Tough times for former Vail Valley officials in Steamboat" using the form below