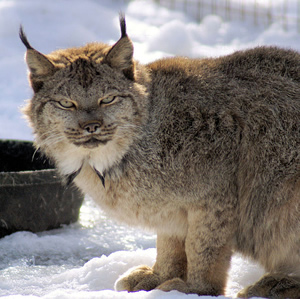 Blog Tools
Comments
PermaLink
Tenuous lynx to terrorism in the high country
By David O. Williams
July 27, 2008 — It was the best of times on Summit County roads Friday, and it was the worst of times.

The Dillon Dam Road reopened to public traffic after a tidal wave of pressure from area residents and elected officials. The road had been shut down due to an unspecified threat, and its reopening brought joy and jubilation to Vail's resort-county neighbor to the east.

The Denver Water Board will close the road to public traffic at night, so any interested terrorists will need to kick their nocturnal habits. Seriously, though, how real is the terrorist threat to rural resorts in the Central Rockies? Let's hope we never find out.

Meanwhile, local Canada lynx, the bobcat-like wildcats that were the impetus for the largest act of eco-terrorism on U.S. soil – the Vail arsons of 1998 – need to rediscover their nocturnal ways.

A radio-collared one reintroduced in the San Juan Mountains in Southwest Colorado was struck by a car on Colorado Highway 9 in Summit County Friday, attracting a crowd of concerned citizens who tried to rescue the normally elusive cat. It died later at a Frisco animal hospital.

Millions are being spent to reintroduce this once-native animal back to a state where its numbers had been decimated to endangered status, but now 13 of them have been hit by cars and 13 have been illegally killed by "hunters." Maybe it's time to throw some bucks at that wildlife bridge over I-70.

In other weird news from nearby ski towns, the head-scratcher of the weekend was the Dalai Lama's love-fest with presumptive Republican presidential nominee John McCain in Aspen Friday afternoon.

While the enlightened one made it clear to the Associated Press that the 45-minute visit in no way constituted an endorsement, he held McCain's hand and praised him for his concern about Tibetans persecuted by Chinese troops during demonstrations this spring.

"His Holiness represents the profound desire of millions of Tibetans for basic dignity and human rights," McCain said. "His nonviolence approach and his lifelong work seeking common ground across cultural and religious divides are an inspiration to all of mankind and to millions of Americans."

Would that be the millions of Americans who support the surge and McCain's 100-year plan in Iraq, or the millions who like the idea of pulling out all U.S. troops within 16 months?

No word on whether McCain scored any unused tickets to next month's Beijing Olympics from the Dalai Lama, who was in town for an Aspen Institute symposium on Tibet. But if he did go to the Games, I suspect the Chinese would just tell McCain their surge seems to be working in Tibet.


Comment on "Tenuous lynx to terrorism in the high country" using the form below