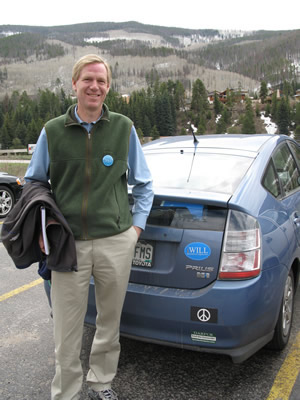 Will Shafroth will be in Frisco Wednesday night with the ultimate survivalist, Aron Ralston.
By David O. Williams
Blog Tools
Comments
PermaLink
Shafroth in survival mode, as is McCain's presidential bid and Perot's Lionshead deal
World's longest political blog, part 2, explores some wildly unrelated topics
By David O. Williams
August 5, 2008 —
At what point are you famous enough to warrant a Wikipedia entry?

For Aron Ralston it came the moment he finally decided, six days into one of the most intense adventure-survival stories of all time , to cut through his own arm in order to escape a boulder that had shifted and pinned him while climbing in a Utah slot canyon. Now Ralston has become a political celeb. No Paris Hilton, mind you, but a campaign darling nonetheless.

In what his campaign hopes isn't seen as a sign of desperation survival tactics, Democrat Will Shafroth is hosting a fundraiser in Frisco Wednesday night featuring Colorado native Ralston, who gained global fame in 2003 by cutting off part of his arm to free himself from that boulder which shifted while he was climbing solo in a deep, narrow Utah slot canyon.

Shafroth, a Boulder land conservationist who petitioned his way onto the Aug. 12 primary ballot in the race for the 2nd Congressional District, has finally started to throw a few punches in the increasingly heated war of words (and press releases) between the other two Democrats vying for the seat, Jared Polis and Joan Fitz-Gerald.

Shafroth has largely stayed out of the fray up to this point, but joined Polis Monday in taking a shot at Fitz-Gerald for her opposition to a ban on cyanide gold mining in Summit County.

Now Shafroth is headed up to the heart of Summit County to host Ralston for a free public presentation and slideshow from 7:30 to 9 p.m. Wednesday at the Summit County Senior and Community Center, 151 Peak One Blvd., Frisco.

"The miracle of [Ralston's] survival has inspired him to greater adventures, including skiing off the summit of Denali -- one of the world's most challenging mountains -- in June, and to become a conservation activist to help protect the wild lands of Utah and Colorado," the Shafroth campaign said in a release.

"He is teaming up with 2nd Congressional District candidate Will Shafroth's campaign to help promote renewable energy, conserve our public lands and foster a sustainable future."

In other local political news, presumptive Republican presidential nominee Sen. John McCain will attend a $1,000-a-plate fund-raising luncheon at a private home in Edwards Aug. 14, according to the Vail Daily.

Henri Stone, a local Republican Party organizer and the chairwoman of the McCain campaign in Eagle County, told the newspaper that McCain will attend with his wife, Cindy.

"He is obviously terribly experienced in all areas of government and policy, but what is the most impressive is the character of this man," Stone told the paper. "He is the most decent and honest and upright person, the most forthright person that you would ever meet."

Stone, a real estate agent and the wife of former Eagle County Commissioner Tom Stone, did not return a call from realvail.com requesting further comment.

Speaking of the VD, they reported on Tuesday that Vail Resorts doesn't want a Texas developer re-doing the Lionshead Parking Structure until they've got their own $1 billion Ever Vail project up and running, which could take at least another three or four years in the current real estate market. It would be a shame if that chases off these particular Texas developers.

Colorado's ski resorts in general — and Vail in particular — have had a long and torrid love affair with all things Texan. Ever since the last oil boom and bust of the 1980s, Coloradans have embraced Texans as skiers, second homeowners and major infrastructure investors.

In fact, when Texas technology tycoon and Vail homeowner Ross Perot ran for president in 1992, he very nearly carried surrounding Eagle County (3,821 votes to Bill Clinton's 3,870). Now his son, Ross Perot Jr., is reportedly backing a $900 million project to dramatically remake Vail's aging and outdated Lionshead area.

The project would put all of the town-owned Lionshead parking garage underground and cap it with a W. Hotel, a St. Regis hotel, a conference center, shops, restaurants and condos. Perot's Hillwood Capital is the big money behind Dallas developer Open Hospitality, which also wants to build a $60 million ice arena in Vail to house a Central Hockey League team.

"They're our capital partner in all the things we're doing right now, and they always have the option to participate or not participate in anything we do," Open Hospitality's Mark Masinter said of Hillwood. "They always get first and last bite at the apple."

One major hurdle for the project, besides the slowing mountain real estate market? Vail Resorts, which owns and operates four Colorado ski areas, holds a deed restriction on the parking garage because it donated the 6.3-acre parcel to the town in the 1970s. The ski company, which wisely retained control over the parcel, apparently wants to drive this deal. Let's hope they don't drive the Perots out of town.

Ross Perot Jr. has a history in sports arenas and team ownership. He owned the National Basketball Association's Dallas Mavericks in the 1990s before selling them to current owner Mark Cuban. Perot built the American Airlines Center, which houses the Mavericks and National Hockey League's Dallas Stars, with $125 million in public funding after a razor-thin 1998 election (it passed by a mere 1,642 votes).

Perot's $3 billion Victory Park development in uptown Dallas is widely credited with reviving the formerly blighted area. Now he may do the same for downtown Vail, with some form of urban renewal authority (taxing mechanisms used to fund redevelopment of decaying neighborhoods) under consideration.

Hard to think of high-dollar Vail as blighted, but URAs have been used in the past to revive aging ski towns, and deep-pocketed Texans have long been players in Colorado ski towns.

Comment on "Shafroth in survival mode, as is McCain's presidential bid and Perot's Lionshead deal" using the form below