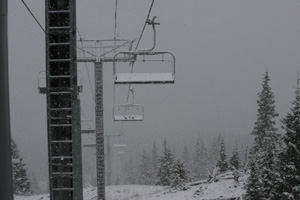 Blog Tools
Comments
PermaLink
Picture this: snow on Breck's lifts, Vail's Gore Range
By David O. Williams
September 17, 2007 — If a picture truly is worth a thousand words, then I should stop writing right now and let the image at right speak for itself.


Problem is, youíd have no idea of the context of the photo, so before I completely concede my craft to the visual wizardry of photogs such as Dan Davis, whose images illustrate many of the stories on this site, let me quickly lend some context.


The photo was not taken by a professional shutterbug but by someone in the Vail Resorts PR/marketing department, nor is it in Vail, despite us posting it on realvail.com. Itís actually of the Independence Chair at Breckenridge Monday morning (Sept. 17), where the first snowfall of the month dusted the lifts and the surrounding chairs.


The second photo accompanying this blog was shot by yours truly and shows a view of the Gore Range from my front deck in West Vail, just west over Vail Pass from the slopes of Breck.


The cumulative effect of these two photos is to get you psyched about ski season, and if they donít have that effect (and youíre a snow rider), then you need to check your pulse and possibly consider calling in some emergency medical assistance.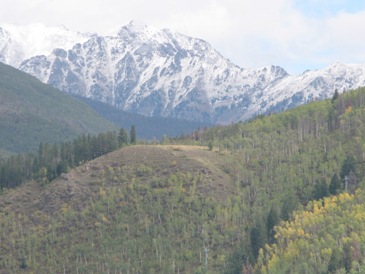 With less than two months to go before the bull wheels start turning at all of the surrounding ski resorts in the Central Rockies, the inordinately wet and chilly summer weíve been enjoying has many local weather prognosticators speculating weíre poised for a spectacular ski season.


Only time will tell, and early season conditions can be a crapshoot (just as likely dominated by balmy Indian summer as blustery autumn gales), but thereís no doubt that deals abound.


At Vail, for instance, the resort is celebrating its 45th season with Vail Snow Daze (www.vailsnowdaze.com), a week-long festival headlined by Ludacris and The Roots. Early season deals include the purchase of three nights of lodging and three days of skiing and a fourth night of lodging and a fourth day of skiing free. For this and other deals valid Nov. 24- Dec. 12, go to www.vail.com or call (800) 404-3535.


Iím always amazed more people donít take advantage of the pre-Christmas rush, when lodging is cheaper, lift mazes look less like a cattle call, and there can be some amazing conditions. As you can see from these photos, the base is already starting to pile up Ė at least above 13,000 feet.


Comment on "Picture this: snow on Breck's lifts, Vail's Gore Range" using the form below