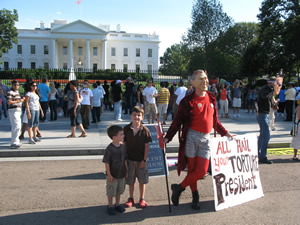 Nick and Max Williams hanging with presidential protesters in front of the White House.
By David O. Williams
Blog Tools
Comments
PermaLink
Beating the heat inside the Beltway? An unseasonably cool family vacation in D.C.
By David O. Williams
August 18, 2008 — Since coming of school age in recent years, my kids have started dictating our family vacation schedule – something I never seriously considered before setting off on the path to parenthood.

Now I'm locked into a mid-June or mid-August pattern of Disney World trips, camping excursions, or this year's "adventure," the dreaded jaunt to the Nation's Capital. So while many people are figuring out how to beat the heat with a trip to Colorado's action-packed high country, the Williams family is usually heading out of the Vail Valley to much steamier climes.

Having grown up in Arlington, Va., I knew what to expect in Washington, D.C. in August: an absolute steam bath. But since arriving last Saturday, we've been shocked by incredible spring-like or late-fall weather: temps in the upper 70s or low 80s and super-low humidity. Unheard of weather for this time of year in D.C.

Meanwhile, we missed the first dusting of snow on the ski slopes of Colorado when a front passed through this past weekend and kept Denver's high in 50s and dropped a couple of inches of wet snow above 10,000 feet. A sign global warming is a myth? Hardly. Don't forget Denver's record three-week string of temp topping 90 or above earlier this summer.

Anyway, while the air isn't particularly thick with anything, there is a palpable sense of expectation here in D.C., where everyone seems to be waiting for a new president and the hope and possibility of a new regime. Even the cynics and protesters in front of the White House were in a celebratory mood Saturday (see photo).

Colorado connections abound in the Capital City, from a Steve Fossett exhibit in a corner of the amazing Air and Space Museum annex near Dulles Airport (the Steven F. Udvar-Hazy Center) – which also contains the atomic-bomb-dropping B-29 Enola Gay and a space shuttle – to a rare Colorado Rockies road sweep at the sparkling new Nationals Stadium with a full moon over the Potomac. We caught both of these events.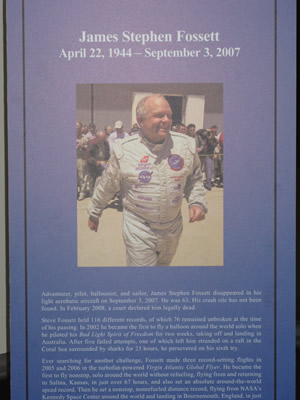 In between we headed out to Rehoboth Beach in Delaware where I nearly broke my shoulder in a freak boogie boarding accident. Disdainful of the Atlantic's puny four-foot waves, my oldest son Nick and I were riding one into shore when we plunged headfirst into the sand, corkscrewing us into the hard-packed East Coast beach.

We're both OK, but now I'm stiffly trudging from monument to monument in D.C., realizing annual trips to the ocean don't remotely qualify me as someone capable of anything resembling proficient surfing.

Saturday and Sunday, besides the Nationals game, we hit the White House, Jefferson Memorial, FDR Memorial, World War II Monument, Smithsonian Natural History Museum and rode to the top of the Washington Monument. Today it's off to the original Air and Space, the Spy Museum, Lincoln Memorial, and hopefully the Newseum.

That's all provided my shoulder holds up and Nick and Max can keep up the pace.


Comment on "Beating the heat inside the Beltway? An unseasonably cool family vacation in D.C." using the form below