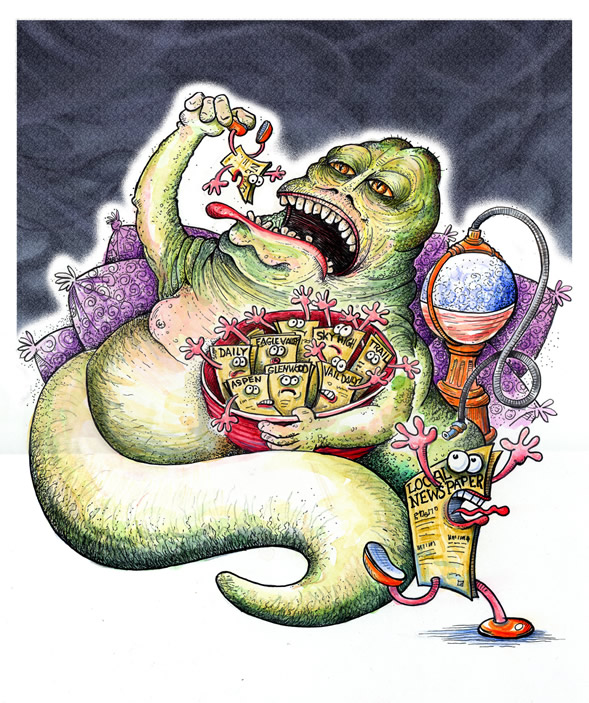 The voracious beast that is Colorado Mountain News Media, with the return of Vail Daily editor Don Rogers, hopes to gobble up the upstart Vail Mountaineer.
Illustration by Don Sidle
Blog Tools
Comments
PermaLink
Return of Rogers promises to make Vail newspaper war so much more interesting
By David O. Williams
August 20, 2008 — So I leave town for 10 measly days and come home to find my arch-nemesis, Don Rogers, is back at the helm of the Vail Daily – this after I finally thought I'd worn him down and chased him out of town back in December.

Rogers is taking over as associate publisher and editor of the VD after heading off late last year to be publisher of one of the Swift chain's California papers. He's no doubt being trumpeted by the company as riding back in on a white horse to do battle with yet another nefarious upstart of a competitor, the new Vail Mountaineer.

Back in 1999 or so, Rogers similarly swooped in – I believe from a different California rag – to crush the last daily startup with the temerity to take on the VD's money-printing monopoly. That paper -- edited by me -- was the award-winning (40 Colorado Press Awards in five years) Daily Trail, in conjunction with its sister weekly, the Vail Trail.

Rogers will tell you he almost single-handedly squashed the Daily Trail, but he knows in his heart of hearts that bad management and a less-than-pathetic sales effort doomed the critically acclaimed DT.

No such problems at the Mountaineer, where Vail Daily founder Jim Pavelich, who sold to Swift in 1993, is back with a cut-rate huckster mentality that has so little to do with good journalism and so much to do with success in today's god-awful print-media environment.

The basic formula is that it doesn't really matter what's between the ads, just sell, sell, sell and sell again. Having delved into the sales arena a bit since I got out of the local print scene in 2003, I now know there's no real secret to a successful sales effort. It's just persistence and lots of hard work.

I am, however, glad Rogers is back to town. Things have been a little too quiet since he left. No knock on the outgoing Alex Miller, whom I respect a great deal as a journalist, but he didn't live here and he didn't have the emotional attachment to the valley that Rogers clearly has. Miller also seemingly had a policy of not mixing it up in print with the gnat-like competition swarming around the VD behemoth.

Rogers will have no such compunctions. The man I believe I once childishly referred to as Don "Jolly" Rogers -- now freed of the influence of the man I dubbed (in a similarly juvenile fit of pique) Steve "Rope a Dope" Pope -- will no doubt come out guns a-blazing at his castaway crew of former VD editors and now FOX News wannabes over at the Mountaineer.

And this time I get to just sit back and take potshots from the Web. Ah, it's good to be 10 years wiser and clearly so much more mature. Welcome home, Don.


Comment on "Return of Rogers promises to make Vail newspaper war so much more interesting" using the form below