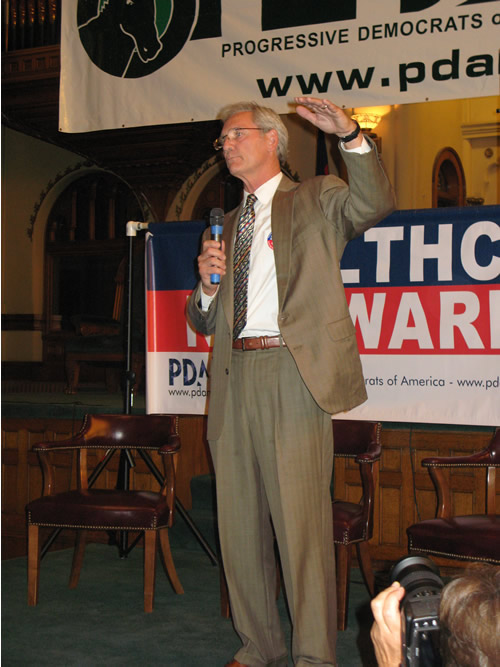 Former Alabama Gov. Don Siegelman at a Tuesday Progressive Democtats of American gathering at the DNC in Denver called for Congress to find Karl Rove in contempt for ignoring a subpoena in May.
Blog Tools
Comments
PermaLink
DNC gets off to a rousing start with mix of A-list celebs and progessive politicians
By David O. Williams
August 26, 2008 — OK, I could have done without hearing this line from Denver global warming activist Laurie David Sunday night at the Green Sunday at Red Rocks concert kicking off the Democratic National Convention: "Any planet that has Sheryl Crow on it will always be hot."

She was quoting a college student from one of her global warming bus tours, but still, that quip came with a high cheese factor. However, I will say this, whatever celebs the Republicans manage to trot out at their convention next week in Minneapolis-St. Paul, they will not be as cool as the Dems stable of celeb supporters.

Besides Crow, the Dem's green love fest Sunday included Sugarland and the Dave Matthews Band. The RNC is reportedly going to lead with the Beach Boys and Sammy Hagar. Crow rocked the house acoustically, bringing the biggest cheers with her appropriately entitled tune, "A Change Will do you Good."

Seriously, though, the setting, the message, the vibe of the whole place got a week of politics and demonstrations going on a perfect note. Besides the nominations and the big speeches at the Pepsi Center and at Mile High Stadium, the city is hosting hundreds of seminars, roundtables and parties throughout the metro area.

On Tuesday I heard Don Siegelman, the former Democratic governor of Alabama, fire up a raucous church full of progressive Democrats, calling on Congress to find former White House Chief of Staff Karl Rove in contempt for ignoring a subpoena investigating Rove's involvement in Siegelman's indictment on bribery charges.

Then Democracy Now's Amy Goodman took the stage with investigative journalist Greg Palast, who was supposed to appear with Robert Kennedy Jr. to promote their latest project, a report on voting irregularities called Steal Back Your Vote. But Kennedy instead was spending time with his uncle, Teddy Kennedy, who was the surprise guest of the first night of the convention.

Pretty good excuse for Kennedy snubbing the Progressive Dems.




1 Comment on "DNC gets off to a rousing start with mix of A-list celebs and progessive politicians"