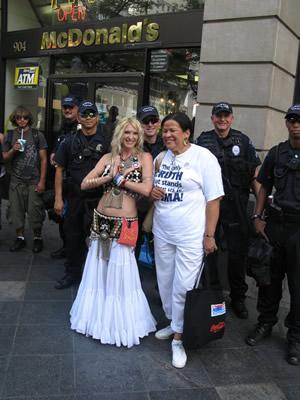 A moment of levity on the 16th Street Mall in Denver, where belly dancers, anti-abortion protesters, pro-choicers, anti-war groups, gay rights advocates and fundamentalist Christian crazies gave the Denver police all they could handle during the DNC.
By David O. Williams
Blog Tools
Comments
PermaLink
Obama, DNC instill varying measures of hope, inspiration and trepidation
By David O. Williams
August 29, 2008 — Barack Obama's nomination acceptance speech Thursday at Mile High Stadium capped an exhausting, emotional and thought-provoking week for me at the Democratic National Convention in Denver.

The 42-minute laundry list of liberal agenda items was comprehensive and inspiring, and while it's hard to be too specific given the timeframe, Obama touched on a number of issues he could have safely steered away from: gun control, gay rights, immigration reform.

The setting, the weather, the diverse and energized crowd of 80,000 well-intentioned Dems all instilled in me an inevitable sense of hope for the country and world my three sons will inherit.

Delivered on the 45th anniversary of Dr. Martin Luther King Jr's "I have a dream" speech on the steps of the Lincoln Memorial, Obama's acceptance in Denver will not go down as the greatest piece of oratory ever written, but it accomplished every goal set by the candidate and his party.

It was a momentous historical occasion in my own backyard, and I left with the feeling that if Obama wins in November and delivers on a fraction of his agenda, historians will look back on Denver as the birthplace of the "New Green Deal" and the restoration of America's power and promise around the globe.

If he isn't elected or he is but his agenda becomes mired in legislative bickering and is thwarted by special interests every step of the way over the next four years, then history will look back at Denver as the place where a great opportunity was squandered.

My hope and belief, while still basking in the soft afterglow of an emotional and awe-inspiring day at Mile High, is that he will beat John McCain in November and will then be able to effect the meaningful change so clearly outlined in Denver. It's hard not to come away with that hope and expectation after a week of listening to some of the most brilliant minds in America genuinely trying to articulate a bold and innovative course of action.

But I also left Denver wanting more, much more. I wanted more specific plans for dealing with the water shortage in the West, for better managing public lands to prevent wildfires but also create healthier national forests, for staving off the growing pressure for domestic oil and natural gas drilling and mitigating the impacts of the extractive industries on public lands. I also wanted a better sense of how the Dems will reform our outdated immigration policies to allow continued economic growth in the mountains but also better cope with the social impacts.

I left feeling these things had been largely glossed over in an endless stream of political platitudes. So much theater; so little reality-based dialogue.

I also came away from Denver with a mounting feeling of unease. It began with the arrest of a group of alleged wannabe assassins with aspirations of taking Obama out at Thursday's speech. Then Wednesday I spent the day in the trenches of various street protests that vividly illustrated for me the huge gulf between the idealists and crazies and painted a picture of rising extremism.

That night while I was in the Big Tent set aside for bloggers, the police detonated a suspicious package nearby at Union Station, causing me and about 400 other new journalists to jump out of our collective skins. Then my RealVail partner Tom Boyd, who was putting me up for the week at his Denver home, called to say I urgently needed to get in touch the Denver police and tell them I was the owner of my car, which I'd left parked in front of his house.

Turns out his neighbor two houses down had been shot to death and the gunman was still on the loose and they needed to eliminate my car as a suspect vehicle. That night and the following morning were filled with nerve-wracking moments as police and news crews converged on the block.

At Thursday's incredible day at Mile High I was overly jumping, nervously twitching every time fireworks went off or the crowd stomped their feet and made the stadium rumble. All of this underscored for me just how violent and polarized our country has become.

It's one of the reasons I live in the mountains, and I realize that's a bit of a copout and that social problems, crime and violence will make their way into our growing rural communities as well if we're not vigilant. But that mixture of hope, inspiration and trepidation gave me a curious feeling in the pit of my stomach all week.

I know that as another great Democrat once said, "The only thing we have to fear is fear itself" (my trip to Washington earlier this month and visit to the FDR memorial was in many ways more inspiring than Denver and the DNC), but it's tough to live by that when there are so many threats to a peaceful Democratic society in today's crazed world.

I can only admire and be inspired by Obama's willingness to take on those challenges at great personal risk and with the possibility of only very limited political rewards. Denver has set him up to be our society's greatest hero or greatest goat. Only time will tell.




2 Comments on "Obama, DNC instill varying measures of hope, inspiration and trepidation"