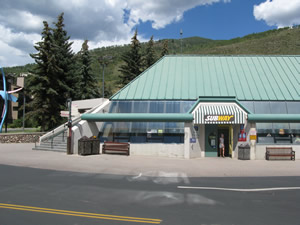 This hideous edifice is the entry point for most visitors in the Lionshead area of Vail. A developer wants to replace the structure with a W. Hotel, St. Regis, condos, shops and a conference center, but the project is stalled.
By David O. Williams
Blog Tools
Comments
PermaLink
In Vail it takes at least three to tango (and the hospital move makes four)
By David O. Williams
September 3, 2008 — As this weird three-way tap dance between the town of Vail, Vail Resorts and a Texas development group comprised of Open Hospitality and Hillwood Capital continues week after week, month after month, year after year, I can't help but think how exciting it would be if they would all just throw caution to the wind and engage in a full-blown and passionate tango.

It's a contrived metaphor no doubt, but much more seemly -- and appropriate -- than any ménage a trios allusions I could come up with, although I am reminded of an episode of Friends in which Ross finally realizes his fantasy of a three-way with his ex-wife and her gay lover, only to be disappointed because he's largely ignored in the equation.

In this case, Vail Resorts -- the ski company that wants to develop its billion-dollar Ever Vail residential, retail and hotel project with its own gondola in West Lionshead – plays the role of Ross, while the town and Open/Hillwood are locked in a torrid affair.

The Texas group wants to build its own nearly billion-dollar hotel, residential and retail project atop the Lionshead Parking Structure, which is a town-owned facility on a six-acre piece of land in Vail's Lionshead Mall area. Many people, town officials included, seem to love that project because it would add more public parking, a St. Regis and a W. Hotel and a conference center.

Problem is, Vail Resorts originally donated that land to the town for its parking garage many years ago and retained a deed restriction giving it veto power over any uses besides parking. The ski company wants its parking garage for Ever Vail up and running before the wrecking ball ever starts swinging at the Lionshead Parking Structure, and they refuse to drop the deed restriction.

This prompted the town to threaten to withhold approvals for Ever Vail if Vail Resorts doesn't play nice with the Open/Hillwood Group, and so things seem hopelessly stalled and perhaps headed to inevitable litigation.

In the meantime, though, Open Hospitality has expressed interest in bringing a Central Hockey League team to town and maybe redeveloping Dobson Ice Arena, another town facility that sits on two town-owned acres just southeast of the Lionshead Parking Structure.

And now comes word after months of rumors that Vail Valley Medical Center officials want to relocate the majority of the hospital's services from its crowded campus on five acres just east of Dobson to a much larger parcel "down valley" in Avon or maybe Wolcott. An ER would stay in Vail and possibly an orthopedics and physical therapy facility centered on the Steadman Hawkins Clinic, but everything else would go.

So suddenly you're looking at a contiguous 13 acres of prime land in the heart of the nation's top ski town ripe and ready for redevelopment. I would think the ski company would jump at the chance for a now four-party public-private partnership (factoring in the VVMC and Steadman) in order to obtain some of the facilities this resort town has lacked for decades -- especially with a developer as deep-pocketed as Hillwood's Ross Perot Jr.

With proper master planning and some creative deal-making, Vail could wind up with a state-of-the-art combo ice arena and performing arts venue to supplement the conference center the business community has so desperately sought for decades; tons more public parking; and possibly a recreation and wellness center built in conjunction with the new orthopedics complex.

Sprinkle in some public financing (the town is already sitting on nearly $10 million in taxes collected in a previous conference center vote for a facility that was never built) and Vail would be positioned for years to come as a premier conference destination as well as even more of a sports-injury repair and rehab destination than it already is. And locals and tourists alike would benefit from a sorely needed recreation and aquatic center (one more thing to do off the ski hill) and a major music and theater and indoor sports venue.

All this incredible fantasy of mine will take to come true is the various parties starting to show each other equal shares of love. I know I'm just dreaming, but hearing Barack Obama accept the presidential nomination on MLK's "I have a dream" speech anniversary last week will do that for you, even on something as shallow and seemingly hopeless as real estate developers and politicians working together.


1 Comment on "In Vail it takes at least three to tango (and the hospital move makes four)"