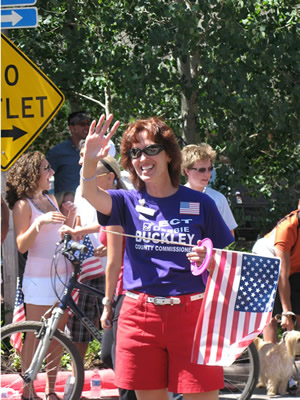 When will Eagle County commissioner candidate Debbie Buckley admit her husband Pete is behind the Eagle County Times conservative blog, and disavow inappropriate comments like the one about the election and homicide on this week's post?
By David O. Williams
Blog Tools
Comments
PermaLink
Talk about lipstick on a pig: Pete Buckley as a journalist deserves disclosure by Vail Daily
Anonymous conservative blogger's veiled death threats in wife's county race should be final straw
By David O. Williams
September 11, 2008 — Now that Vail Daily Editor Don Rogers has returned to the helm, already back to his old tricks of pissing off liberals and conservatives with equal glee, I'd like to issue him a challenge regarding his news judgment. It's a challenge his more liberal predecessor, Alex Miller, surprisingly passed on.

Don, do you find it newsworthy that Republican Eagle County commissioner candidate Debbie Buckley -- facing Democrat and former Eagle Mayor Jon Stavney in the Nov. 4 general election -- refuses to acknowledge the fact that her arch-conservative and muckraking husband Pete Buckley is the editor the Eagle County Times Web site, an anonymous political blog being used to further the agenda of the local Republican Party?

Shouldn't this information at least be part of your profiles of former Avon Town Councilwoman Debbie heading into the stretch run of this year's election? The existence of such a valuable campaign tool may or may not violate campaign-finance regulations, but at the very least it's a conflict of interest and something voters should be aware of before they head to the polls.

I won't even bother arguing whether this site actually belongs to Pete. I've detailed all the evidence in past stories, and at a recent GOP fundraiser for U.S. Senate candidate Bob Schaffer in Edwards I was a few feet away from Pete while he asked questions and videotaped Schaffer -- videos that later showed up on the Eagle County Times (ECT).

I'm not arguing for squelching Pete's First Amendment rights – far from it. I am simply making a case that his name should be on the site so voters can better assess the quality of the information and make a correlation between the views of the husband and the views of the wife, if they choose to do so.

For instance, I find it newsworthy that Pete put up this lovely little item on this week's post, after first airing his familiar rant about the allegedly overpriced Eagle County Justice Center expansion, which was on this week's agenda:

"With great relief the ECT can also report that this same meeting agenda includes a County Commissioner Resolution designating September 7-13, 2008 as 'national suicide prevention week". If this kind of "disenfranchised taxpayer abuse" continues, the ECT Staff suspects the Commissioners may have to pass a resolution designating as 'national homicide prevention week' - the week before this November's County Commissioner election."

Knowing Pete, he thinks he was being funny, but I'd just like to know whether Debbie finds thinly veiled murder threats to be a legitimate part of an election campaign, or whether she disavows such statements and wants to take Eagle County politics out of the Tom Stone caveman era of vicious attack politics by the local GOP fringe.

And mainly I'm wondering whether our local mainstream media monopoly (MSM) will ever tackle this story. Sorry, Vail Mountaineer, to me you're still an agenda-driven right-wing mouthpiece that will never air the Buckley shenanigans (because you agree with them).


3 Comments on "Talk about lipstick on a pig: Pete Buckley as a journalist deserves disclosure by Vail Daily"