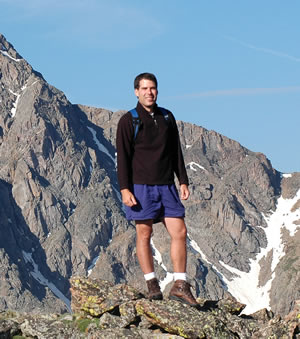 The views from the summit of Notch Mountain are unparalleled this time of year.
By Dan Davis
trekkerphoto.com
Blog Tools
Comments
PermaLink
Snow dusts mountains above Vail, but fall still the best time for biking and hiking
By David O. Williams
September 12, 2008 — Winter was literally in the air in the Vail Valley Friday morning after a cold front moved through and dumped a whole lot of rain and a fair dusting of snow on the high peaks above 10,000 feet.

If that doesn't get you in the mood for the coming ski season, nothing will. It's good news for the hunters who are descending en masse over the next couple of weeks (they like to look for tracks in the snow), and it's good news for anyone who gets as excited about ski season as I do.

Last season I was on skis Oct. 10 at Arapahoe Basin, their earliest opening ever, and that's less than a month away. But if you don't get that psyched about the end of a summer that seemed to last about two months here in the high country, remember there's still plenty of warm weather, changing leaves and crisp, clean air to enjoy before we mothball the bike and hiking gear.



It's supposed to be a spectacular late-summer weekend in the valley after the storm moves out. My 8-year-ol son Nick and I are going to try to ride some single-track on Vail's North Trail Saturday and then head up Notch Mountain Sunday. That's the 12,000-plus-foot peak that provides the classic view of 14,005-foot Mount of the Holy Cross.

We're also going to try to hit the final weekend of Oktoberfest going on in Vail Village Friday through Sunday. Check out Highline Sports and Entertainment's Web site for all the details.

This is the best time of the year in the valley, in my opinion, followed closely by mid-January, when the holiday crowds have thinned and the powder snow just keeps dumping. Start doing your snow dances.



Comment on "Snow dusts mountains above Vail, but fall still the best time for biking and hiking" using the form below