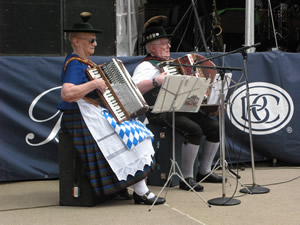 Not saying these folks were holding cultural exchange visas last October in Beaver Creek, but clearly channeling the Old World is one option for averting a major labor crisis in the Vail Valley.
By David O. Williams
Blog Tools
Comments
PermaLink
Q-1 visas: tapping our international theme-park inner child
By David O. Williams
September 16, 2008 — One of my son's ski instructors from last season e-mailed the other day to tell me she was rejected for an H2-B visa, as was virtually everyone else from Europe, Latin America, Australia and New Zealand looking to work in Vail this ski season.

She was looking into getting a Q-1 visa instead, which has been described to me as a "cultural exchange" visa. "The foreign national can engage in practical training and employment so long as they are also sharing the history, culture and traditions of their home country," according to www.immigration.com.

One town official told me the Q-1 is used extensively by Disney when it needs workers for its theme parks – for instance, native German speakers for Teutonic World. Which, come to think of it, would kind of work in Vail – at least when it comes to jobs in and around the faux Bavarian splendor of Vail Village. And a cute Swiss ski instructor is a huge plus in Vail … or anywhere.

Where this concept gets problematic is in trying to get Q-1 visas for the Aussies and Kiwis who have driven the town buses for years. Unless, perhaps, we trick out our mass transit system in sort of a post-apocalyptic décor reminiscent of the Mad Max flicks of the 80s. That could work.

Then we go with a kind of banana republic theme at Adventure Ridge atop Vail Mountain to accommodate our Latin American Q-1 applicants. You know, instead of laser tag and mini snowmobiles you hack your way through a simulated jungle and overthrow a tin-pot dictator.

All of Vail will soon become Russian Federation World, given the abject weakness of the U.S. dollar and the huge appetite for American real estate on the part of the now-oil-soaked former Soviets. St. Moritz is apparently overrun with them, and the vodka flows freely ever night.

But at least somebody will be buying real estate in Vail, given that our primary markets are suddenly drying up overnight. One more government takeover of a financial institution and our top market will no longer be New York. We'll have to shift all our marketing dollars to D.C.

The upside is that we can then staff our lifts and slope-side restaurant with former Bear Sterns, Lehman and Merrill Lynch execs. They don't need visas.


Comment on "Q-1 visas: tapping our international theme-park inner child" using the form below