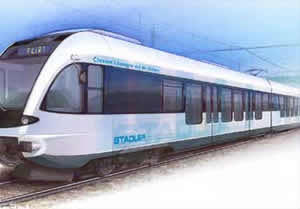 Will a mountain mass transit system fly in the current economic climate? Ali Hasan says it will and he's spending a lot of money so he can give it a try at the State Legislature.
Courtesy of Stadler
Blog Tools
Comments
PermaLink
Hasan camp claims to have returned questionable donation
By David O. Williams
October 1, 2008 — Ali Hasan, Republican candidate for House District 56, still has yet to reply to an e-mail request I made for a comment on my previous blog post on possibly illegal campaign contributions he received, except to send an e-mail Tuesday at 4:53 p.m. saying, "We'll have an official reply later -- thank you!"

Now the Summit Daily News has a story about Hasan's campaign claiming a clerical error and returning the money. Benefit of the doubt here, maybe it was an honest mistake, but when so much focus in his campaign against incumbent Democrat Christine Scanlan has been on the record amounts of money being raised and spent, I would think extra caution would be in order.

Makes me wonder how Hasan would handle the incredible belt-tightening that will be required at the state House next session if he's elected Nov. 4. Someone who can self-fund so much of his campaign and way overspend on a race that typically sees at most $100,000 in contributions may have a blank-check approach to Colorado's problems.

His monorail promise, while laudable in that mass transit to the mountains is something a lot of us support, seems to be based in voodoo economics at a time when basic road repairs are going unfunded. Again, Scanlan seems to have her feet more firmly planted on the ground and has a proven track record of getting things done in Denver that benefit residents of Eagle, Summit and Lake counties.




Comment on "Hasan camp claims to have returned questionable donation" using the form below