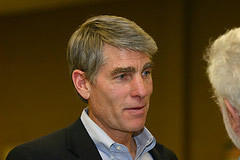 U.S. Rep. Mark Udall will be at Fiesta's in Edwards Sunday to help local Dems launch a voter registration drive aimed at surpassed the local Republican Party.
Blog Tools
Comments
PermaLink
Get to Fiesta's Sunday to help local Dems catch and pass number of registered Republicans
Blue trend continues despite completely out-of-touch local newspapers
By David O. Williams
October 4, 2008 — How out of touch is at least half the editorial board of the Vail Daily in endorsing Republican Ali Hasan for the state House seat that represents Eagle County?

Just check out some of these numbers:

Democrat Mark Udall, according to a recent poll, leads Republican Bob Schaffer in the bitterly contested race for U.S. Senate by 7 points statewide, but a whopping 21 points on the Western Slope, where clearly the majority of residents care a great deal more about the environment that Schaffer wants to "drill here, drill now" than the former oil executive anticipated.

And here in Eagle County, after trailing by more than 10 percent as few as five years ago, the number of registered Democratic voters is virtually deadlocked with the number of Republicans with Monday the final day for registration in order to vote in the Nov. 4 general election.

Join Udall and the local Dems at 11:45 a.m. Sunday at Fiesta's in Edwards as they make a final push to catch and pass the badly faltering local GOP. I honestly never thought I'd see the day when Eagle County turned more blue than red, so it will be interesting to see if that final 70-voter-or-so gap can be closed in one day.

In my Monday blog I'll go into much more detail on why the local Democratic candidates have a much better plan than the reactionary Republicans who want to take us back to the dark ages when development was king and social issues like education, attainable housing, open space and environmental concerns were only bandied about in the Peoples Republic of Boulder, not in "build here, build now" Eagle County.

Guess what, this county has been bluing for the past two election cycles precisely because young families and even some heavy hitters in the building and resort industry understand that all of these issues are critical to maintaining a high quality of life locally and continuing to attract guests to the valley.

To suggest that Christine Scanlan fits into the "Denver woodwork," as the slapdash Vail Daily endorsement suggests, is laughable. As a freshman in the legislature she sponsored 11 bills on education and environmental issues, including beetle-kill mitigation, that addressed critical concerns for mountain dwellers. Hasan, meanwhile, lives on family money in the gated enclave of Beaver Creek.

But more on that travesty on Monday. In the meantime, if you care about early childhood education, supporting local daycare, continuing to bolster our public schools, increasing the amount of local open space, implementing aggressive affordable housing programs, pursuing expanded mass transit and becoming a West Slope leader in Gov. Bill Ritter's new energy economy, then get to Fiesta's Sunday morning and help rock the vote.

Oh, and by the way, it's supposed to snow 6 to 10 inches Sunday, so dress warm.


2 Comments on "Get to Fiesta's Sunday to help local Dems catch and pass number of registered Republicans"