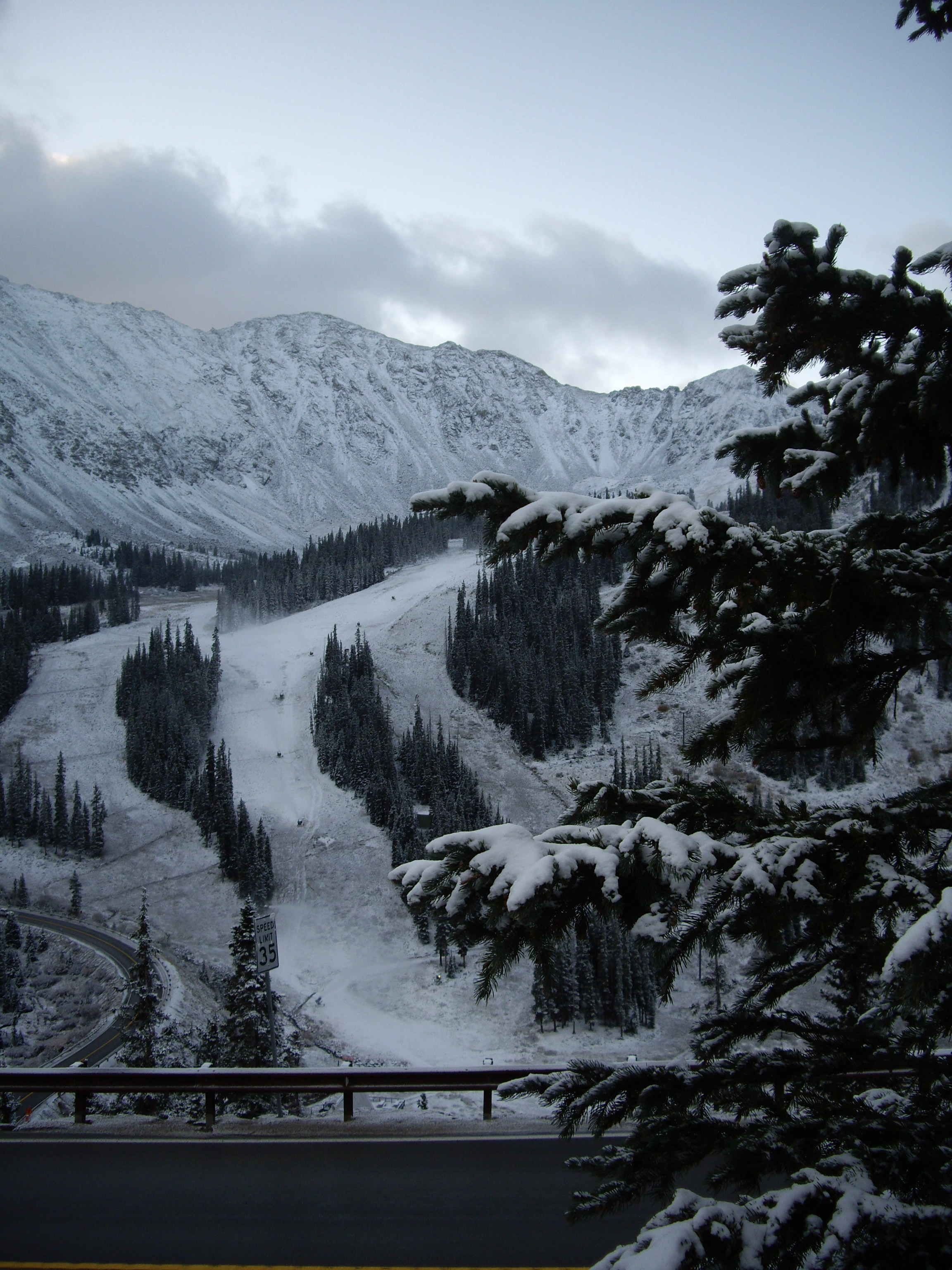 A-Basin cranked up its snow guns earlier this week and some more natural stuff is supposedly headed our way this weekend.
Courtesy of Arapahoe Basin
Blog Tools
Comments
PermaLink
Endorsing weekend snowfall, Stavney for county commissioner
Why we have to keep the Buckleys and the Stones out of county government
By David O. Williams
October 10, 2008 — This is once again a dual-purpose weekend blog, first to catch you up on Vail Valley weather, the possibility of a winter storm this weekend and the status of local ski areas, and secondly to continue my political rants, this time endorsing Democrat Jon Stavney for Eagle County commissioner.

Let's hope my political pick proves more accurate than recent forecasts, like last weekend's, which was calling for a foot of fresh above 9,000 and we only saw a dusting up high. Arapahoe Basin started snowmaking Tuesday, and Loveland's been blowing the faux stuff for a while.

On this date last season I was already making turns at A-Basin, their earliest opening ever, but that's not happening this season. It should be noted, though, that recent dumps in the Alps have produced several feet already, and a few Austrian and Swiss resorts are already open.

So we need this weekend's storm to produce. Forecasters aren't calling for nearly as much snow as last weekend, which means it will dump a couple feet. Let's hope so. It's time to start gearing up for the season, so wash your car and pray for snow.

And while we're praying, put in a good word for Stavney, the former Eagle mayor who's running against former Avon councilwoman Debbie Buckley for term-limited Arn Menconi's seat on the three-member board.

Stavney's tenure as mayor in Eagle was marked by significant infrastructure improvements, major open-space acquisitions and a lack of partisan bickering. In many ways, Eagle is the model for how local towns can manage growth, maintain small-town character and keep the needs of full-time local residents at the forefront of public policy.

Stavney and his wife, Mary Ann, a teacher and former school board member, understand the pressures on young families in the valley. He knows that it's critical that we improve public education, increase the amount of affordable local daycare, continue to acquire open space for future generations, and work tirelessly to obtain more affordable workforce and family housing.

All of those issues will impact the quality of the workforce we can continue to attract to the valley in order to provide the best possible experience for the tourists and second homeowners who love this place and have made it such an incredible outdoor recreation destination.

Buckley, a Republican, is running a belt-tightening campaign that would slash county funding for such programs such as Bright Start early childhood education, thereby dramatically impacting the already minimal amount of local childcare. She would make an already critical situation worse for thousands of young families, all for the sake of maybe a hundred-dollar refund on property taxes.

Colorado already has one of the lowest property tax rates in the nation, and Buckley wants to give back most of that money to second homeowners from New York, Chicago and L.A. If you're reading this in one of those places, this matters to you because a happy local population means a better experience when you're in town a few weeks out of the year. Without such measures, we'll soon have no local workforce to meet your needs on the ski hill or in the restaurants.

Buckley also has a spotty record when it comes to favorable votes for deep-pocketed developers. No town has extracted less public benefits from big developers than Avon.

And in a recent debate she dismissed as a personal attack a question about her husband Pete's conservative blog, the Eagle County Times, which he produces anonymously and both Buckleys refuse to address.

The Vail Daily's Don Rogers recently wrote a dismissive column on the topic we've been covering for months here on RealVail.com , and I posted this response to a comment questioning why the anonymity of the blog and the source mattered:

"I have no problem with Pete having a site and saying whatever he wants (short of libel), but why not put his name on it, especially when his wife is running for arguably the most important local elected office? If they're sneaking around about this, what else would she sneak around about as a county commissioner?

"There's a pattern of this stuff dating back to when they were both Avon council members and Pete was charged with fraud for spamming vail.net (owned by Vail Resorts). Charges were dropped, the DA said, only because he couldn't prove if the spam came from Pete's computer, Debbie's computer, or someone else in their house.

"Pete then filed suit, Debbie kept voting on Vail Resorts matters (with an OK from the town attorney) and Pete lost his suit against VR, with the judge ordering him to pay $100,000 in legal fees. Would that kind of stuff continue if Debbie is elected and what role would Pete's Web site play? Search 'Pete Buckley lawsuit' [on the Vail Daily site] for more."

I also brought this critical topic up in an interview with Vail Trail reporter Nathan Rodriguez, who did a good job on a piece on citizen journalism this week, although he failed to point out why Pete Buckley's anonymity matters -- the fact that Pete's wife is running for county commissioner.

Finally, the hot rumor on the street is that if both Buckley and fellow Republican Dick Gustafson (running against incumbent Democrat Peter Runyon for another commissioner seat) are victorious Nov. 4, their first action (because they will then have a 2-1 majority on the board) would be to fire county administrator Bruce Baumgartner and hire former county commissioner Tom Stone.

Nothing could be more disastrous for this county, which is currently highly regarded around the state as a model of fiscal restraint, sold management practices and progressive programs on the environmental, social services and housing fronts.

Stone, if you remember, teamed with his wife, Henri, to inject the most partisan poison into the local political scene that this county has ever seen. He tried to have Menconi recalled for not voting on a 9/11 resolution (as ridiculous as it was for a county to even spending time on such a measure) giving President Bush our full support to invade whomever he saw fit and roll back our civil liberties in the process. Thankfully, the recall effort failed, but Stone got his wish anyway.

Now we face a presidential election aimed at fixing all that Bush and his ilk screwed up in the last eight years. Bringing back Stone would be a return to the bad old days, when the DA was asked to probe the realtor's dealings with a developer both privately and then as a county board member. That investigation was swept under the rug, but Stone's particular brand of venom is still on display (as witnessed by a ridiculous story about GOP signs in the conservative Vail Mountaineer this week).

The local Republican Party is still suffering from the involvement of the arch-conservative Stones. On Monday, the number of registered Democrats surpassed the number of registered Republicans for the first time in modern memory in this former GOP stronghold.

And you can directly trace that attrition to the Stones and the Buckleys. If you care about this county, do everything you can in the next 25 days to make sure these people don't get back into power.


3 Comments on "Endorsing weekend snowfall, Stavney for county commissioner"