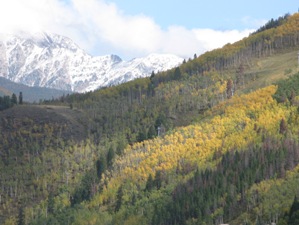 The view from the West Vail deckcam of realvail.com editor David O. Williams does not suck, but you be the judge.
David O. Williams
Blog Tools
Comments
PermaLink
Introducing RealVail's West Vail deckcam
Snow on the Gore, Blues Traveler, leaf gaping and the Rockies rule
By David O. Williams
September 25, 2007 — The photo that accompanies this blog was shot from my front deck in West Vail and is my best attempt at stoking the fires of early ski-season frenzy. Shots of snow dusting the Gore Range Monday, Sept. 24, tend to get people psyched to throw down for new ski gear and season passes.


Because my wife wonít let me set up a webcam just yet, letís just call my Canon G7 the realvail.com deckcam for now. Iíll keep working on her on the webcam, but in the meantime you can see that a few inches fell above 11,000 feet and the leaves in the Vail Valley are nearing their peak fall colors.


Try to get up this weekend if you want to catch them in their full fall glory. We donít have the leaf-peeping spectacle of New England, but the Vail Valley does offer a short-but-sweet leaf season and some smoking hotels deals (www.vailonsale.com).


And if youíre reading this in a drive market and want an excuse for some mid-week hooky from work, get up here tonight (Tuesday, Sept. 25) for the Blues Traveler show at the Vilar Performing Arts Center (note the new name) in Beaver Creek.


Tix are $100 but benefit the Millennium Society (www.themillenniumsociety.org) and three local charities and come with food from the Dusty Boot and premium wines and spirits. Pony up $300 and hang with the band for an after party. Doors open at 6:30, and the show starts at 8 p.m.


If youíve never seen a show at the Vilar Center, you have to check out this state-of-the-art 500-seat acoustic marvel beneath the ice rink at the Beav. If you canít make Blues Traveler, the quintessential 90s jam band, come up Thursday for the guitar stylings of Grammy winner Eric Johnson (www.vilarpac.org).


Since this blog has morphed into a bit of a grab bag, let me just take a quick minute to sing the praises of our Boys of Summer, the Colorado Rockies, who for only the second time in their 14-year history have a shot at being the Boys of Fall.


Thatís right, going into tonightís game against the Los Angeles Dodgers (in LA), the Rocks are just one game behind Philly and San Diego for the National League wildcard berth. They have won eight in a row, including sweeps of the Dodgers in Denver and the Padres in San Diego.


Iím taking my oldest son Nick down to the Rocksí game Friday night at Coors Field no matter how they fare in LA. Our ace, Jeff Francis will be going for a franchise record 18th win against the division-leading Arizona Diamondbacks (whom the Rocks only trail by four games) and they have earned our show of support regardless of how they do in their three-game set with the Dodgers.


Personally Iím hoping for a little reverse of the Californication our state has endured since the Rocks threw out their first pitch in 1993 (weíve never finished ahead of the Dodgers in the standings and our state has been slowly consumed by refugees from the Golden State).


I cannot use the term ďlong sufferingĒ to describe myself as a Rockies fan, because that phrase should be reserved for Cubs and (until recently) Red Sox fans, but I have witnessed some pretty god-awful baseball at the old Mile High Stadium and now Coors Field over the last decade plus.


I was at Mile High when Eric Young (EY sightings are still occurring for various Major League teams) hit a home run for Colorado in their first at bat as a franchise. In fact, I was in the press box, having finagled press passes as the Vail Daily sports editor at the time (they were desperate for coverage in those days).


After a victory over the Montreal Expos (now Washington Nationals) I interviewed Andres ďBig CatĒ Galarraga in the Rocksí locker room. Those were the heady days when anything seemed possible, and indeed, the team made the playoffs quicker than any other expansion team in 1995. Itís been all downhill since.


Until this season. Iíve attended two other games this year (a Memorial Day win in the midst of their previous season-high win streak of seven and a mid-summer victory over the Dodgers). Nick was with me both times, and Iím convinced we are good-luck charms.


Weíll be there Friday to ensure a playoff berth hopefully and show our support for this team that cobbled together a pitching staff and deserves another shot together next season.


Donít break up the Rocks!


Comment on "Introducing RealVail's West Vail deckcam" using the form below