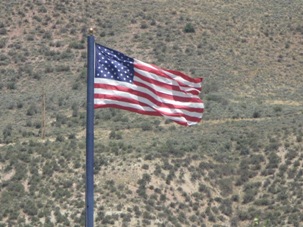 Good thing flags aren't taxed by the square inch in Avon, or this beauty in front of Wal-Mart would be costing Magnus Lindholm even more in disputed tax payments.
Blog Tools
Comments
PermaLink
Avon tax lawsuit targeting Traer Creek could impact Eagle County election
RealVail.com helps Vail Valley voters connect the dots between Magnus Lindholm, Debbie Buckley
By David O. Williams
October 15, 2008 — Apparently it takes a press release to get the Vail Daily excited about a story. Getting scooped doesn't quite light the journalistic fires.

Ironically, the conservative Vail Mountaineer newspaper on Saturday published a story about arch-conservative Swedish shipping magnate Magnus Lindholm's ongoing resistance to helping fill the public coffers to pay for minor nuisances like public schools and fire protection.

The article claimed Lindholm's Traer Creek shopping center in Avon (the one with the dead and/or dying grass roof) is about $300,000 behind in paying property taxes to Eagle County. I'd link you to the story if the Mountaineer had a Web site.

How did the crack staff at the Mountaineer discover this information? Apparently by spotting a delinquent tax notice posted by the county treasurer in, you guessed it, the competing Vail Daily.

Then on Tuesday the town of Avon put out a press release announcing it has sued the Traer Creek Metropolitan District for non-payment of sales taxes and capital improvement payments totaling about $650,000. And not yet included in the suit, the town claims, is a bunch more money owed since January for municipal services like policing and snow removal.

That finally got the Vail Daily's attention, and the valley's paper of record (read by more than 90 percent of the local populace!) posted a story as breaking news Tuesday afternoon.

What's incredible about this story is that Lindholm is one of the largest landowners and wealthiest men in Eagle County. He landed the sweetheart deal of all-time back in the 90s when the town fathers and mothers approved his Village at Avon development and waived sales tax collection at his new big-box stores (Wal-Mart and Home Depot) for 25 years so that those funds could in part pay for infrastructure that towns typically require developers to pay for.

All those town mothers and fathers got their names on street signs and Lindholm promptly proceeded to promise the world and deliver squat. He's built virtually no housing, even fewer public facilities, and his commercial space caters to his pocketbook. Promised discount gas and liquor stores never materialized, and his big boxes (and even bigger flag) continue to loom large.

But what makes this story even better is that last week I sent an e-mail to Vail Daily editor Don Rogers urging him to connect the dots between Lindholm and the various Republican candidates for local offices – the ones beating the anti-tax drum and featured on massive signs dotting his property.

Folks like state House of Representatives candidate Ali Hasan, who lives in a massive McMansion in Beaver Creek and calls himself a crusader for TABOR (Doug Bruce's Taxpayer Bill of Rights abomination that has been handcuffing our state for years).

And folks like Debbie Buckley, who's running for Eagle County commissioner on a platform of lower taxes (read, no taxes if you're in the Lindholm bracket) and as an Avon councilwoman voted on at least one sweetheart amendment that benefited Lindholm.

Rogers told me he didn't see a connection. Really, Don? You don't think a county commissioner candidate's relationship with one of the largest landowners and developers in the county is relevant, especially when the policies she implements will likely benefit him to the tune of hundreds of thousands, if not millions of dollars?

Here's the lead item (under a picture of Lindholm's giant and highly controversial flag in the Wal-Mart parking lot) on the Oct. 12 edition of Debbie Buckley's husband Pete's Web site, the Eagle County Times, which claims to be "the conservative voice in Eagle County": "Now this is what we call a political advertisement. Flag Pole paid for by our favorite Swede. It comes with a Park located between two retailers – that is actually – a park we can all be proud of."

Yeah, Pete, the kids and I hang out at that one a lot. It's a great place to watch the shopping carts roll by as no taxes accrue to Avon and another local mom-and-pop shop goes under. Pete, by the way, also cast a favorable vote or two Lindholm's way during his glorious days on Avon Town Council.

Debbie, in a recent story in the Vail Daily, admonished her opponents to leave her family out of the race. She was responding to questions about her objectivity toward Vail Resorts after Pete's years of legal wrangling with the ski company stemming from his Internet spamming case.

Sorry, Debbie, as long as your husband runs a Web site pretending to represent the conservative voice of the county – a quasi news site that also on Oct. 12 endorsed your candidacy – and as long as the two of you refuse to acknowledge his role and the site's purpose, your family is fair game.

Now the questions are about your extended family, the tax rebels in the local GOP who support Taxpayers for Common Sense and other TABOR-loving zealots like county commissioner candidate Dick Gustafson, Hasan and on up the ticket.

How cozy are you guys with Lindholm and the other major landowners in the county sporting your massive eyesore signs? It's one thing to be against excessive taxes; it's another thing altogether to support tax avoidance in one of the wealthiest counties in the state.

I'll never forget back in the early 90s when Lindholm and his lawyers threatened to sue and take control of the Vail Daily after it ran a story about a tax evasion case he was involved in in his native Sweden. He wanted to parse semantics, calling it a "tax dispute," which he later settled. But you see the pattern here.

It's a pattern that has continued here in the land of the free, which apparently the Buckley's "favorite Swede" takes to mean free public services and infrastructure. Spread the money to the right politicians and taxes are just something the rest of us pay.

Keep the Buckleys and the rest of the local Republicans out of office Nov. 4 – vote for Dem commissioner candidates Jon Stavney and Peter Runyon and Christine Scanlan (for state House) -- and in Avon take the Republican mayor's advice and vote for Kristi Ferraro, Amy Phillips and newcomer Shari Peach.

All of this stuff with the local Republicans smells way too much like the last eight years of corrupt politics in Washington, and Eagle County just can't afford to go back to the Stone Age.


3 Comments on "Avon tax lawsuit targeting Traer Creek could impact Eagle County election"