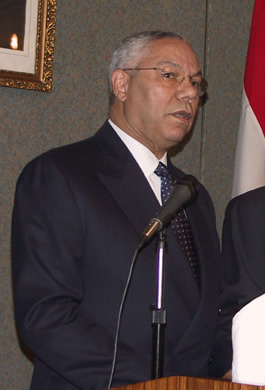 Blog Tools
Comments
PermaLink
Hasan, other Colorado Muslims 'deeply touched' by Powell on 'Meet the Press'
By David O. Williams
October 21, 2008 — Members of Colorado's Muslim community Monday praised former Secretary of State Colin Powell for his interview on NBC's "Meet the Press" Sunday in which the retired Republican Army general endorsed Democrat Barack Obama and condemned his own party's attempts to portray Obama as a Muslim associated with terrorists.

"I'm also troubled by, not what Sen. (John) McCain says, but what members of the party say and it is permitted to be said, such things as, 'Well, you know that Mr. Obama is a Muslim.' Well, the correct answer is, he is not a Muslim, he's a Christian," Powell told host Tom Brokaw.

"But the really right answer is what if he is? Is there something wrong with being a Muslim in this country? The answer's no, that's not America. Is there something wrong with some seven-year-old Muslim-American kid believing that he or she could be president? Yet, I have heard senior members of my own party drop the suggestion, 'He's a Muslim and he might be associated terrorists.' This is not the way we should be doing it in America."




Powell, a Jamaican-American who served as National Security Advisor in the Reagan administration and chairman of the Joint Chiefs of Staff under both George H.W. Bush and Bill Clinton, also spoke of the sacrifices of Muslim-American soldiers who have died in combat in Iraq.

"I was deeply touched by Powell's words and I agree with them," said Ali Hasan, a Republican candidate for state House District 56 who lives in Beaver Creek. "However, I have been disappointed with Obama's lack of outreach to the Muslim community. Obama, in my mind, has gone at great lengths to distance himself from the Islamic religion, rather than to actually discuss his special role in being someone that could unite divisions between America and the Muslim world."

Hasan founded Muslims for Bush and later Muslims for America. He supports McCain for president but argues that both McCain and Obama have failed in making Muslim-American relations a campaign issue.
"I wouldn't say that McCain has done a better job necessarily, but in actuality I wish both men would outreach the same way our President W. Bush did. So far, President W. Bush is one of few politicians to go to a Mosque, take off his shoes, kiss our Imam, and officially declare Islam as a religion of peace," Hasan said.

"(Bush) has a terrific history of taking on members in his own party, including the likes of Franklin Graham, Tom Delay, and Tom Tancredo, for remarks that are divisive and xenophobic."
Hasan, whose parents immigrated to Pueblo from Pakistan, did not specifically address McCain campaign tactics such as recent robo-calls portraying Obama as a terrorist, or anti-Muslim comments by some audience members at McCain-Palin rallies.

Muzaffar J. Shah, president of the Colorado Muslim Society, declined to single out either campaign but did say both candidates have failed to speak out strongly enough on the issue.

"I wish the leaders like Colin Powell would come up like the way he spoke [Sunday]," Shah said. "It was very balanced and it was very good for the country to unite and to keep away this poison within the society. So he was very good. I commend him for that.

"I wish the leadership, whether it's Democrats or Republicans, would come out exactly the same way and talk about these kinds of issues and keep in mind that we have to treat each other with respect and we have to live together peacefully," said Shah, who moved to Colorado 27 years ago from the disputed Indian state of Kashmir.




Comment on "Hasan, other Colorado Muslims 'deeply touched' by Powell on 'Meet the Press'" using the form below