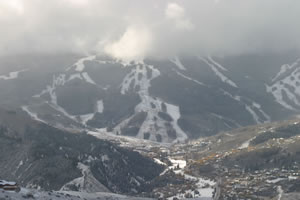 It was a snowy scene at Beaver Creek Wednesday, where crews cranked up the snow guns for the first time this season. Beaver Creek opens Nov. 21 and Vail opens Nov. 26.
Blog Tools
Comments
PermaLink
Snow cures all: Wall Street woes will pale when the powder piles up
By David O. Williams
October 22, 2008 — OK, it's officially on here in the high country.

If you're reading this in some much flatter place, watching your stock portfolio crater hard and irrevocably and wondering when the pink slip will slide under your cubicle door – if you're lucky enough to have a door to your cubicle (which actually makes it an office) – stop acting like a sheep shambling to the slaughter.

Chuck it all before they chuck you and come grab a highly rewarding career in the winter resort and/or mountain hospitality industry. There may be nobody standing in line while you maintain your lift-op post – given that all your Wall Street colleagues got a pink slip just like yours and now can't afford to ski – but that just means you'll have more time to play in the powder.

Which brings us to today's "Word": freshies.

We had about five or six inches of fresh in Vail today, prompting Beaver Creek to crank up the snow guns on Strawberry Park and the Birds of Prey World Cup course. Too bad they don't open for more than a month (Nov. 26).

But you need to blow a lot of snow for a World Cup downhill course, and, barring a sudden 90-degree heat snap (could happen in this day and age of "clean" coal and hot gas) they should now be in great shape for the Dec. 4-7 men's alpine races (Bode Miller, Ted Ligety, etc).

Last season it didn't start snowing until those races, so we're ahead of that game, and of course it famously didn't stop snowing after that until about mid-June. If we have a repeat of that season-long feast o' freshies, Great Depression II be damned, we'll be swimming in skiers.

So even if you still have a job (especially if you still have a job), make your rez now. Deals abound. For instance, at the Beav' during the races, if you book three nights of lodging and three days of skiing, you get a fourth night of lodging and a fourth day of skiing for free. No doubt the deals will keep coming. Call (970) 845-9090 or (800) 404-3535 or visit www.beavercreek.com.

Only two ski areas are open in Colorado right now, but they both got smacked with a fair amount of freshies Wednesday: Arapahoe Basin got eight inches in 48 hours and Loveland saw a foot in the same amount of time.

And a couple of days after Election Day on Nov. 7, four more resorts join the fray: Breckenridge, Copper Mountain, Keystone and Wolf Creek. Vail jumps on the bandwagon Nov. 21.

Then it really will be on.


Comment on "Snow cures all: Wall Street woes will pale when the powder piles up" using the form below