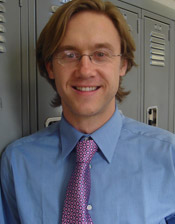 Blog Tools
Comments
PermaLink
Obama touts Thornton school led by Vail educator in 30-minute TV spot
By David O. Williams
October 30, 2008 — Democratic presidential candidate Barack Obama Wednesday night once again singled out an exceptional Denver-area expeditionary high school in his 30-minute prime-time television ad - a school led by Vail native Michael Johnston.

Obama praised Thornton's Mapleton Expeditionary School of the Arts (MESA) for its 100 percent graduation rate during his $4 million ad buy, in which he spent most of the time highlighting individuals and families who will benefit from his policies if he's elected.

Obama spoke at the school in May, praising its principal, Johnston, who is one of Obama's top education advisers. Johnston grew up in Vail, graduated from Yale and earned his teaching chops at a poor rural high school in Greenville, Miss.

Obama in May said of Johnston, "We need a Mike Johnston in every school." And Johnston, in a recent Vail Daily interview, said, "We're trying as best we can to imitate Vail Mountain School," a private school in East Vail that stresses community activism and requires its students to do volunteer work every Martin Luther King Day.

In other regional political news, Senate Majority Fund, a controversial 527 political committee being sued by Colorado Ethics Watch for alleged campaign violations, is raising some eyebrows in and around Steamboat Springs with a wave of fliers weighing in on the state Senate District 8 race.

According to the Steamboat Pilot & Today, the fliers go after Democrat Ken Brenner for advocating for state-run, taxpayer-funded health care, depicting a monkey with a stethoscope and the tagline, "Is now the time to monkey around with health care?" The group also sent out fliers promoting Republican Al White and his ability to deal with economic issues.

Colorado Ethics Watch, a Denver-based nonprofit political watchdog group, last month sued Senate Majority Fund for allegedly touting specific candidates, which is not legal for 527 groups. Named after a section of the IRS tax code, 527s don't have the same funding restrictions of candidate committees, but are not allowed to specifically target candidates.

And in the race to replace White, who for the past eight years has represented state House District 57 and is therefore term-limited, there are also complaints of outside money targeting the Democrat.

In an article Wednesday in the Pilot & Today, Democrat Todd Hagenbuch reportedly issued a statement condemning his Republican opponent, Randy Baumgardner, for taking much of his more than $33,000 in campaign contributions from out-of-district political action committees and small-donor committees.

"District 57 citizens deserve someone who represents them, not special interests from outside Northwest Colorado," Hagenbuch said in the statement. "I'm the fourth generation to call this special part of our state home, and I will fight for the common values we share and will protect what I've learned here at the state Capitol."

The paper went on to quote Baumgardner from an earlier interview saying the groups contributing to his campaign share his values of protecting the Second Amendment and private property rights. "I'll take money from anybody," Baumgardner said. "Anybody wants to give me money, I'll take it."

Some of Baumgardner's contributions include $2,000 from Service Employees International, $2,000 from the Colorado Association of Public Employees, $400 from American Family Insurance, $400 from Associated Collection Agencies Political Committee Fund and two $200 donations from Waste Management PAC, the Pilot & Today reported.


Comment on "Obama touts Thornton school led by Vail educator in 30-minute TV spot" using the form below