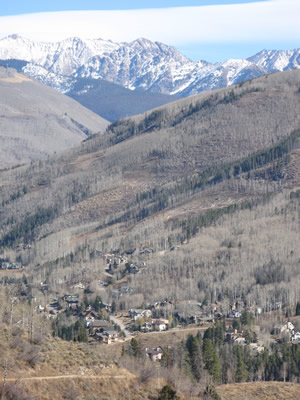 A dusting of snow was visible Tuesday on the Gore Range over Intermountain as viewed from the Davos Trail mountain bike and four-by-four road on the north side of the interstate in West Vail. It's been great biking weather of late, but snow is on the way next week.
By David O. Williams
Blog Tools
Comments
PermaLink
Announcing the Vail bailout: major marketing push aimed at attracting Front Rangers
By David O. Williams
October 31, 2008 — Last spring, many months before Wall Street crashed and the housing marketing tanked, some business leaders in Vail were worried about too many skiers descending on the slopes this season. Their concern stemmed from Vail's deeply discounted $579, six-mountain Epic Pass.

Kaye Ferry, former director of the Vail Chamber and Business Association, even went so far as to infamously refer to the "Front Range riff-raff" the cheap passes would attract, and the parking problems and crowding that would ensue.

Oh, what a difference an economic meltdown makes. Vail's No. 1 domestic destination market, New York City, is experiencing job cuts, consolidation and overall turmoil unseen since the Great Depression.

Now all those pre-sold season passes look like a brilliant business strategy given the precipitous plunge in early-season reservations. It seems people may fiddle, but they don't ski while Rome burns.

"There will be less people coming, and even those coming will spend less, even on the higher end," Vail Resorts CEO Rob Katz said during an emergency meeting in Vail last week, according to The Rocky Mountain News.

"I think the guy who came up with the Epic Pass should get a bonus this year," Vail Mayor Dick Cleveland said.

Actually Katz, whose idea it was, received $3.36 million in compensation in the most recent fiscal year. Now the town of Vail, which continues to deal with peak-season parking shortages and an ongoing labor crunch, will inject $550,000 of emergency public funds into marketing Vail with direct mail pieces and enhanced special events for the coming season.

There are no guarantees that marketing blitz will work, said Vail Mountain Chief Operating Officer Chris Jarnot, but it's better than doing nothing. "They're just not booking at this point," Jarnot said, according to the Vail Daily. "People appear to be waiting, either for the situation to change or some significant event — like snow."

And that snow is apparently on its way after a balmy fall. Winter weather will hit the high country just in time for Election Day, and four more resorts — Breckenridge, Copper Mountain Keystone and Wolf Creek — join Arapahoe Basin and Loveland by opening on Nov. 7. Vail opens Nov. 21.

Inclement weather is not expected to impact voter turnout in Colorado, with snow showers forecast to hold off in mountain areas until after the polls close on Tuesday. According to Boyd's Blog (right here on RealVail.com), Eagle County — home to Vail — will likely see a nearly 100 percent turnout among its 23,000 active voters. And 60 percent, or about 15,000, will have voted early.

A traditionally conservative county that has been trending blue in recent years, Eagle went with John Kerry in 2004. Earlier this month registered Democrats surpassed Republicans for the first time in recent memory.


Comment on "Announcing the Vail bailout: major marketing push aimed at attracting Front Rangers" using the form below