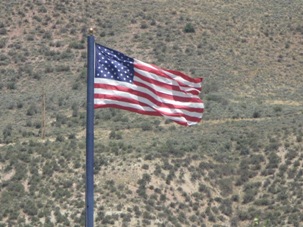 Blog Tools
Comments
PermaLink
Voting easy, breezy in Vail, even though local columnist says don't bother
Karl Rove calls Colorado for Obama
By David O. Williams
November 4, 2008 — There are some benefits to living in a town mostly made up of voluntarily disenfranchised voters (second, third and fourth homeowners). It only took a half hour to vote in Vail this morning, a town of under 5,000 permanent residents where 70 percent of the homes are owned by out-of-town residents. And some of those McMansions will no doubt be going on the market if Wall Street continues to crater and a few more CEO indictments are handed down.

Most of the voters in line were young resort workers who live in "affordable" workplace housing, and one longtime election judge said Vail's only polling place was as busy as she had seen it in her 30-plus years of volunteering. The Eagle County clerk was predicting close to 100 percent turnout for active voters.

A Republican former town councilman said he had crossed over and voted Democrat on at least half of the lengthy ballot, perhaps an indication of where surrounding Eagle County (registered Democrats recently surpassed Republicans for the first time in recent memory) was leaning.

A forecast foot of snow was expected to hold off until well after the polls close at 7 p.m. A winter storm warning for the Central Rockies kicks in at midnight, meaning mountain residents were possibly looking at both a new president and a powder day on Wednesday.

Meanwhile, a columnist for the Vail Daily, Richard Carnes, urged people who were "too stupid" to know the issues not to vote. His column ran under the charming headline, "If ignorant of issues, don't vote in Eagle County." How about the newspaper delves into the issues, educates voters and urges them to get to the polls? Could that work too?

Bush campaign mastermind Karl Rove is calling Colorado for Obama by a 7-percent margin. On his final Rove & Co electoral map, Rove has Obama beating McCain by 338 to 200 spread, which would be the widest margin since Bill Clinton routed Bob Dole in 1996. Rove, perhaps hoping to show just how desperately he's needed, has McCain winning just one key battleground state, Missouri.




1 Comment on "Voting easy, breezy in Vail, even though local columnist says don't bother"