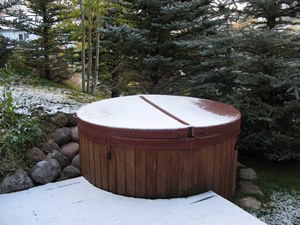 Introducing the realvail.com hot tub cam, which shows a dusting of snow Sunday morning on the author's Jacuzzi in West Vail.
David O. Williams
Blog Tools
Comments
PermaLink
Rockies so hot and yet so cold
By David O. Williams
October 1, 2007 — Driving down the east side of Vail Pass on Interstate 70 Friday, Sept. 28 – en route to Denver to watch the Colorado Rockies suffer an agonizing 4-2 loss to the Arizona Diamondbacks – I noticed a thin strip of what had to be faux snow high on the flanks of Copper Mountain.


On the way home, depressed by what seemed at the time a fatal blow to the Rockies' playoff aspirations, I sought solace in the coming of a new season - the boys of summer giving way to the boards of winter – and strained to see Copper's patch of manmade crystals under the glow of the recently full moon.


I couldn't spot "the ribbon of death," as early-season skiers so fondly refer to artificially treated trails, but made a mental note to check Copper's website. Sure enough, they've joined Arapahoe Basin and Loveland in cranking up the snow guns for the season.


Then something wonderful happened over the weekend to justify those three resorts' faith in Mother Nature: while the Rockies were heating up, the Rocky Mountains were gripped by a fall freeze.


Rain spattered the high country Saturday as the Rockies demolished the D-backs 11-1 at Coors Field and wild-card rivals San Diego dropped an extra-inning affair to the Brewers. Then on Sunday we awoke to a skiff of snow in Vail, but the sizzling Rockies sneaked by the D-backs 4-3 in the afternoon while the Pads fell again.

Now, improbably, with Loveland and A-Basin vying to be the first Colorado resorts to open for the season – likely sometime in mid October – and Copper and Wolf Creek in southern Colorado only a month from opening, the Colorado Rockies are weirdly still relevant as ski season rushes at us like the Colorado Buffaloes stampeding the hapless Oklahoma Sooners.


As I picked through boxes in search of a Rockies cap to wear to the Monday, Oct. 1, one-game tiebreaker at Coors Field between the Rocks and the Padres to determine the National League wild-card and who gets to take on the Phillies in Philadelphia Wednesday, I ran across some random ski gear.


The thought suddenly occurred to me that while I've been wrapped up in a pennant chase for the first time in 12 years, I need to start seriously getting my ski gear together.


First turns are only a couple of weeks away, and with a win on Monday, it will be very interesting to see how deep into ski season the Rockies can stay hot.


Comment on "Rockies so hot and yet so cold" using the form below