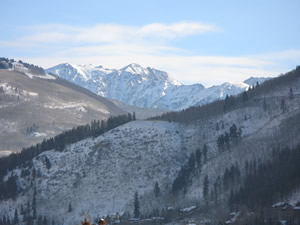 The scenery is still unspoiled, as demostrated by the West Vail Deck Cam, but something smells at one Vail Village real estate brokerage.
By David O. Williams
Blog Tools
Comments
PermaLink
What Vail Realtor in their right mind would advocate a boycott of any kind these days?
By David O. Williams
November 8, 2008 — I swore after Tuesday's election that RealVail.com, or at least my blog on RV (the O. Report), would get back to its core purpose: skiing, blogging and blogging about skiing. After finally getting some results I could live with after eight long years in the wilderness, it was time to move on.

But then someone forwarded me an e-mail from a Republican Realtor in Vail who clearly has not been able to make peace with Tuesday's overwhelming mandate from people sick of fear and loathing and eager for hope and change.

And on the way back from Edwards Saturday I noticed state House candidate Ali Hasan still has his enormous signs up along I-70 and in downtown Edwards. Apparently the army of people he paid to canvass for him and do honk and waves on Election Day are no longer available. Either that or Hasan's already running for a town or metro district board next year, which is where he should have started in the first place.

Taken together, these two incidents reminded me that while Democrats may have joked about moving to France in 2000 and 2004, when Republicans basically hijacked the elections, the Dems didn't allow themselves to be consumed by rage. Despite the landslide nature of Tuesday's election, some Republicans clearly aren't going to relinquish the reins quietly.

Republican Donna Spinelli of Coldwell Banker Timberline Real Estate on Bridge Street in Vail Village sent an e-mail to the Vail Board of Realtors membership this week, urging a GOP boycott of the Vail Daily because of its "biased coverage of the local races," which she felt led to a nearly clean sweep by local Democrats on Tuesday. She also encouraged Realtors to support the more conservative Vail Mountaineer newspaper.

Keep in mind, this went out to the board's membership of more than 700 licensed Realtors, who presumably will help sell or purchase properties for clients regardless of political affiliation:

"Vote with your advertising dollars. I have already informed [Vail Daily editor] Don Rogers that my advertising is going to the Vail Mountaineer. We can make the Vail Mountaineer real estate section as or more powerful than the Vail Daily. Tell Don how you don't like his biased coverage of the local races, especially the persecution of the commissioner candidates and (Republican House District 56 candidate] Ali Hasan. The Democrats of course should still feel free to support the Vail Daily. I somehow have the feeling that most of the realtor community is right leaning, for economic sanity reasons."

Ironically, the Vail Daily took quite a bit of heat for endorsing the candidacy of Hasan, a controversial figure who lost to incumbent Democrat Christine Scanlan. Scanlan won in Lake and Summit counties but was narrowly edged by the free-spending Hasan in Eagle County. The Vail Daily also endorsed one of the two Republican candidates in the Eagle County Commission race, although both lost to Democrats.

Spinelli went on to make a case for extending the boycott beyond marketing decisions:

"You can do the same thing with the service providers you use: hairdressers, car dealers, clothing stores, mortgage bankers, banks and grocery stores. Yes, grocery stores. Safeway was a contributor to the political action committee that sent out a smear postcard about Ali Hasan. Nationally you can vote with your choice of manufacturers. Apple exec Steve Jobs gave substantial dollars to the DNC. I'm not getting an iPod or a Mac anytime soon. Ask the stores you spend your money at if the owner supported McCain or Obama. Vote with your dollars. We have more dollars than they do. They may get our tax money, but they don't have to get our sales dollars."

Another irony is that the Mountaineer on Friday –- when three ski resorts in neighboring Summit County opened for the season — ran a banner front page story about local gun sales rising in the wake of Barack Obama's win. The paper is owned by former ski bum Jim Pavelich, who founded the Vail Daily in 1981 on the premise of making no waves, promoting Vail and raking in money.

Called a "news wimp" by a former partner, Pavelich's new paper, the Mountaineer, has relentlessly covered the economic crisis and all its gloomy implications for the ski industry and blatantly crusaded against local taxes in editorials thinly disguised as articles. No escapism here if you're visiting from New York.

All of which runs counter to Pavelich's former fun-in-the-sun editorial approach. Even in an advertisement leading up to the launch of the Mountaineer last spring, Pavelich, who also owns the lightly regarded Denver Daily News, gave every indication his sunny style would continue:

"Tenacity and strong leadership skills are needed," his ad post read. "It would also be convenient if you can appreciate living in one of the world's finest resort communities. Some people don't."

People like Donna Spinelli, apparently. She may not remember that during the 1990s Vail prospered beyond reason under Clinton administration tax and economic policies and was a frequent vacation spot for vice president Al Gore, who presumably spent a great deal of money in the Vail Valley. Clinton himself came to town in the early 90s.

And, of course, Spinelli will have to extend her boycott to Vail Resorts, which donated $500,000 to the DNC in Denver in August but did not extend a similar contribution to the RNC because the ski company doesn't own any resorts in Minnesota. It remains to be seen if she will tell her clients not to ski at Vail.

"I expect to get flamed for this; bring it on," Spinelli concluded. "I'm mad as hell and I'm not going to take it anymore. How about you?"

Sorry, Donna, I'm happy as hell and hope the middle-class tax cuts Obama implements will trickle up to Vail with a broader and more diverse base of skiers visiting our town and our ski mountain this season. I certainly don't want to exclude anyone based on their political affiliation during these troubling economic times.

Maybe you should consider moving to France.



2 Comments on "What Vail Realtor in their right mind would advocate a boycott of any kind these days?"