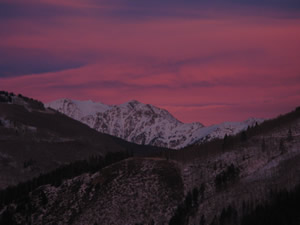 This photo of recent alpenglow over the Gore Range, as shot from the West Vail Deck Cam, has almost nothing to do with this blog. But it sure is pretty.
By David O. Williams
Blog Tools
Comments
PermaLink
Vail featured on December cover of SKI Magazine, brought to you by the O. Report and RealVail.com
By David O. Williams
November 18, 2008 — First a little shameless self-promotion before diving into the usual thinly disguised environmental advocacy couched as "saving our planet for future generations of powder skiers" blogging typically found in this space.

The December issue of SKI magazine features a cover story by yours truly entitled "The Ultimate Guide to Vail," which marks the first time SKI has ever spotlighted one particular resort as its cover story (maybe they were feeling guilty after two straight seasons of ranking us behind the luxe but lame Deer Valley, Utah).

Regardless, I was happy for the work and hopefully delivered an honest assessment of my home mountain, which is many things to many different people. I am also quite psyched to be on the cover of a major national ski mag. It's not quite Rolling Stone, but to quote the immortal Dr. Hook song, I still "wanna buy five copies for my mother."

I also wrote the holiday cover story for Vail Beaver Creek Magazine, the best of the local glossies, so if you're in town (after booking a trip because you read SKI Magazine), pick up a copy and read about Ski Club Vail's Lindsey Vonn, the defending overall World Cup ski-racing champion who, much to our chagrin, now makes her home in Park City, Utah, which is suspiciously close to Deer Valley (just kidding, we love our powder-blessed brethren to the west).

Lindsey just incredibly won a slalom race in Finland (see our story in Real Sport) and is now a favorite during World Cup racing action in Aspen Thanksgiving weekend. Go check her out and cheer her on as she goes for a second straight overall title.

Anyway, here's the thinly disguised stuff:

The sprawling 2.5-million-acre White River National Forest in Colorado's central and northern Rocky Mountains is home to some of the most renowned ski areas in the world, including Vail and Aspen, but other methods of recreating are likely to be the most controversial elements of a revised travel management plan released Thursday.

The public now has until Jan. 6 of next year to comment on the proposal and its various options. The Forest Service's preferred option acknowledges the explosion in popularity in recent years of off-road vehicles such as ATV's and actually takes the controversial step of adopting 280 miles of so-called "rogue" roads illegally carved out of the landscape by off-roaders.

Sloan Shoemaker, executive director of Aspen's Wilderness Workshop, told the Aspen Daily News he is leery of sanctioning such activities.

"That's the kind of use I don't feel should be rewarded by bringing an abandoned route into the system and legitimizing it," Shoemaker said. "We're looking to make sure there's big wild spaces left between the roads so that the wildlife who rely on this habitat have the opportunity to continue to persist."

The White River has become a victim of its own popularity in the last decade, with Colorado's booming population of outdoor enthusiasts often clashing on skis, snowshoes, ATVs, snowmobiles and horseback. Conflicts between various user groups prompted the lengthy travel management plan process, which seeks to better designate areas of use and types of use.

Finally, here's a number we can all use. If you're already starting to get telemarketing calls on your cell phone, call the FCC's National Do Not Call Registry at (888) 382-1222 (from that cell phone) and take 20 seconds to save yourself five years of aggravation. Take that evil telemarketer scum.


Comment on "Vail featured on December cover of SKI Magazine, brought to you by the O. Report and RealVail.com" using the form below