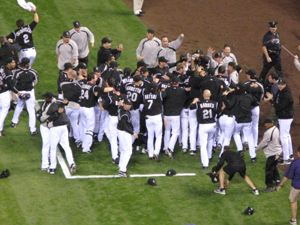 The moment of ecstasy at Coors Field: 12 years of frustration vanquished in 13 innings.
David O. Williams
Blog Tools
Comments
PermaLink
Snow flies on Vail Pass like extra-base hits in LoDo
By David O. Williams
October 3, 2007 — In the top of the 13th inning of Monday's Rockies-Padres tiebreaker game (winner makes the playoffs, loser goes home), I was having some serious doubts about my impetuous decision to buy a single-seat ticket (all that was available) and make the 200-mile roundtrip from Vail to Denver and back.


San Diego's Scott Hairston had just crunched a two-run jack off the Rockies Jorge Julio to give the Padres an 8-6 lead and Coors Field had suddenly gone from a pleasure palace to a house of pain. This could not be the end after such a wild ride the last two weeks, could it?


I seriously considered leaving at that point, trying to get ahead of the sellout crowd that was still mostly in attendance after more than four hours of nail-biting baseball. But, what the hell, I'd stayed for so long at that point, might as well stick around for the final out.


Mostly I was just mad the umps had collectively blown a seventh-inning homerun call on a Garrett Atkins drive that should have given the Rockies a lead for good and made extra innings unnecessary. That and they'd stop selling beer that inning, making for six seriously parched innings after that.

Anyway, I stayed, despite the fact the best relief pitcher of all time, Trevor Hoffman, was taking the mound against the top of the Rockies order. Colorado's Kaz Matsui led off with a double and the crowd roared back to life. Then NL Rookie of the Year frontrunner Troy Tulowitzki followed with another double, bringing home Matsui and trimming the lead to one, and the place exploded all over again.


The game was practically over by the time MVP candidate Matt Holliday stroked a triple off the wall in right field, tying it up at 8-8 with no outs and Todd Helton coming to the plate. Hoffman walked Helton to get to Jamey Carroll, who promptly slapped a sac fly to right, bringing Holliday headfirst into home plate (who cares if he touched it?) and setting off a crazed celebration at 20th and Blake and throughout LoDo.


At that point I had no second thoughts about my decision to come down on a whim or to stay till the bitter end, especially after running into some friends from Boulder and celebrating the win.


But a couple of hours later, driving over Vail Pass in an absolute whiteout snowstorm, the doubts began to creep back in. I got home at 2 a.m. and my nine-month-old son greeted me with all of his full-on infant energy a few scant hours later at 6:30 a.m.


Exhaustion aside, the question I posed in my previous blog has now been answered. The Rockies seriously may be able to push this run into ski season. If the cooler temps and frequent fronts keep rolling through the state, either Loveland or Arapahoe Basin may open for the season while the boys of summer are still stroking homeruns just down the hill.


In the past, the state's ski industry has benefited enormously from Denver Broncos games in the fall when the snow is falling on Mile High Stadium and amazed skiers from around the country call in their early reservations.

Could we get a similar hit when the Phillies are in town this weekend and the cameras do a panoramic shot of the snowcapped peaks of Colorado ski country? At this point, anything seems possible where the Rockies are concerned.


Comment on "Snow flies on Vail Pass like extra-base hits in LoDo" using the form below