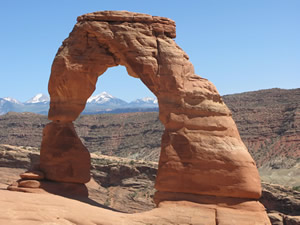 Blog Tools
Comments
PermaLink
Back on snow at Vail after nearly a year: Day 1 of the 2008-09 ski season
And some arch observations about environmental rollbacks on the way out the White House door
By David O. Williams
November 24, 2008 — I officially registered Day 1 of my 2008-09 ski season Sunday, two days after Vail's opening day on Friday, Nov. 21. So you may be wondering why the photo accompanying this blog is of Delicate Arch in Arches National Park near Moab, Utah.

Well, first of all, it's a good shot. Taken by my oldest son Nick last June. But secondly, the iconic arch that actually graces one version of the Utah license plate is under an 11th-hour assault by the lame-duck Bush administration (more on that later).

And the real reason for the arch photo is that the skiing being offered at Vail right now is not quite to the standard of the photos in the flash movie on the RealVail homepage. I would say the conditions are actually fairly typical of an opening day, so really not all that photo-worthy from a strictly skiing standpoint. Plus, my camera battery ran out of juice.

Actually, Sunday was a marked improvement over my first day at Vail last year, when all that was open was the Born Free trail and there was literally no snow anywhere else on the mountain. In fact, opening day was delayed a few days last season. But then the snows came in early December and didn't really let up for another six months or so.

Nick and my middle son Max and I went up Sunday and mostly just fooled around. There's some good beginner terrain open at the top of the Eagle Bahn Gondola, so Max, who's just 5, enjoyed taking it easy on opening day as opposed to last year, when as a 4-year-old Born Free was a bit much.

The weather was balmy Sunday (a bit too) and is supposed to stay that way right up to Thanksgiving, when there's a shot of a storm coming through. Beaver Creek opens Wednesday, but isn't likely to have much fresh snow for the occasion.

Regardless, it felt incredibly good to get out on the snow. It's been 317 days since I last skied, owing to a knee injury that knocked me out last Jan. 9, and it held up fine Sunday. All the biking apparently paid off. Now all it needs is a little more natural snow.

OK, now back to Arches. It's bad enough the Bush administration's EPA is looking to roll back air-quality standards for coal-fired power plants near national parks (see our latest story in Real News), but another federal agency in Utah hopes to put in a lot more oil and gas rigs within eyeshot of Arches.

Author and naturalist Edward Abbey didn't even like people hanging out at Arches when he was a seasonal ranger there in the late 1950s. One wonders how he'd feel about the place being overrun by oil and gas wells.

The U.S. Bureau of Land Management (BLM) recently ruffled the feathers of its sister agency, the National Park Service, by proposing a massive oil and gas lease auction next month in and around three Utah national parks.

Delicate Arch and the rest of Arches near Moab, a favorite destination for Colorado's outdoor enthusiasts in search of a little "Desert Solitaire" (Abbey's seminal 1968 book about Arches), could soon be within view of a slew of new drilling rigs if the 51,000 acres of leases are auctioned off Dec. 19.

"We find it shocking and disturbing," Cordell Roy, the chief Park Service administrator in Utah, told The Associated Press. "They added 51,000 acres of tracts near Arches, Dinosaur and Canyonlands without telling us about it. That's 40 tracts within four miles of these parks.

Aides to U.S. Interior Secretary Dirk Kempthorne ordered the Park Service and the BLM to make nice by instituting a compromise that requires the BLM to "take quite seriously" the Park Service concerns. BLM officials said they were perplexed by the furor because energy development near national parks is not out of the ordinary.

Perhaps it's time we made it that way.


3 Comments on "Back on snow at Vail after nearly a year: Day 1 of the 2008-09 ski season"