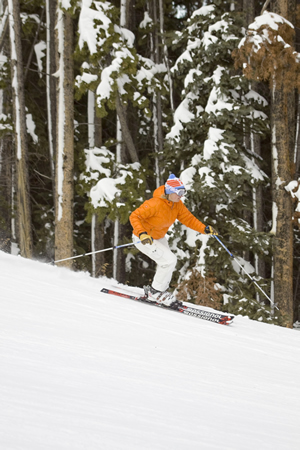 Katie Richardson carves some turns at Beaver Creek on opening day Wednesday. Fresh snow fell the last couple of days in the Vail Valley, lifting holiday spirits.
Cody Downward/Vail Resorts
Blog Tools
Comments
PermaLink
Fresh snow in the Vail Valley, pine beetles, Polis power, EPA inanity and more
By David O. Williams
November 28, 2008 — So the snow finally started falling at Vail and Beaver Creek on Thanksgiving, with the Beav reporting five new in the last 48 hours and Vail chiming in with another three. While this isn't the most bountiful of Thanksgiving freshy feasts, we'll take it after a largely dry fall.

We're still actually ahead of last year's pace, when November was a bone-dry test of our powder patience. Thing is, there's really not enough terrain to lift pass restrictions today and Saturday, so most locals will have to find other ways to pass the post-holiday time. Restrictions will be lifted again on Sunday.

My family opted to head out of town for the long Thanksgiving weekend (kids now get the Wednesday before and the Monday after Thanksgiving off from school), taking advantage on the killer hotel deals out there as a result of the economic downturn.

Ever wanted to stay in a five-star but never thought you could afford it? Think again, early season deals abound at Colorado's three Mobil five-star rated hotels, the Broadmoor in Colorado Springs, Aspen's Little Nell and our very own Ritz-Carlton Bachelor Gulch.

I've now stayed at two out of the three (never made it to the Nell) and am writing this from our family suite in the Broadmoor, a famous Colorado landmark with some intriguing history. My colleague at the Colorado Independent, Cara DeGette, recently had this amusing blog post re the Broadmoor.

In other media news, look for my first byline in the Vail Daily in more than a decade, my take on the demise of the weekly Vail Trail, and a story current Daily business writer and former Trail staffer Scott Miller is writing about the storied paper's long and illustrious history.

And on a much larger media stage, Colorado's rice-sized mountain pine beetle got some plus-sized publicity last week in The New York Times, likely causing a collective cringe on the part of the state's ski industry and tourism officials.

Generally, the marketing types probably want to avoid lines like this in the newspaper of record for Vail's No. 1 domestic destination market: "At Vail Ski Resort, for example, which has been particularly hard hit, workers have removed thousands of dead trees and planted new ones."

Actually, Vail hasn't been as hard-hit by the epidemic as places like Winter Park and Summit County, where Vail Resorts also owns Keystone and Breckenridge. But it's all a matter of differing degrees of devastation, with 500,000 acres of lodgepole pines dying every year and the beetle now moving toward the Front Range.

"Wildfire is the biggest threat," continued the Old Gray Lady. "Some towns like Steamboat Springs and Vail, Colo., are surrounded by dead forests, and the Forest Service and logging companies are clear-cutting 'defensible space' so firefighters have a place to fight fires."

True, and add into that mix the state, counties and ski companies, which have also been chipping in to try and cut down as many dead and dying trees as possible and avoid Hayman-esque fires that could level ski towns (and other mountain towns) and cause major erosion problems in and around mountain reservoirs that provide most of the drinking water for Denver and the Front Range.

That has the more populated parts of the state finally sitting up and staking notice, with Gov. Bill Ritter recently announcing he wants to more than double the amount of state funds being spent to cut down trees around towns and water sources. Increasing that amount from $2 million a year to $5.5 million would require the approval of the state Legislature because Ritter wants to pull the money from existing oil and gas severance tax funds.

Meanwhile, Colorado's congressional delegation is working to increase Forest Service funding for projects across the West to $175 million to help deal with the problem.

Speaking of that delegation (and a new member acutely aware of the beetle situation since he owns a home in Vail), the congressional career of freshman Dem Jared Polis is off to an auspicious start, according to the Boulder Daily Camera, with Speaker Nancy Pelosi naming the incoming 2nd Congressional District representative to the influential Democratic Steering and Policy Committee.

Polis told the paper that being the freshman representative on the committee of 54 Democratic congressmen gives him and by extension his district a voice in deciding which House members serve on which committees in the 111th Congress in January. "It puts me in a strong position to advocate for Colorado and move the Congress in a progressive direction," he said.

The importance of the committee was exemplified recently when members voted to recommend House Oversight and Government Reform Committee Chair Rep. Henry Waxman (D-CA) take over the leadership of the powerful Energy and Commerce Committee from Rep. John Dingell (D-MI), a staunch defender of the auto industry, who has long obstructed climate change legislation.

Waxman's daring, and successful, move to bump off a senior congressman signals that the House may not hold sacred the historic, and often politically frustrating, seniority system for determining committee leadership.

And on the subject of frustration, officials at the Bush administration's Environmental Protection Agency (EPA), often maligned for undermining the Clean Air Act and refusing to regulate greenhouse gas emissions, are clearly dreaming of a soot-gray Christmas as they head off into an increasingly hazy sunset.

The EPA, already being blasted for 11th-hour attempts to loosen air-quality standards for coal-fired power plants (including in and around the country's National Park system), is now facing ridicule for apparently being oblivious to the irony of issuing a press release entitled, "U.S. EPA Highlights Ways that Everyone Can 'Go Green' During the Holidays."

The release, which has suggestions such as, "Avoid using disposable dishes and utensils when entertaining friends and family," was seized upon by salon.com blogger Alex Koppelman, who pointed out that, "It's pretty rich to hear the EPA lecturing citizens on how they can save the earth by not using plastic forks when that same federal agency is actively thwarting efforts by states to reduce greenhouse-gas emissions from transportation, which makes up one of the nation's largest contributions to global warming."

Meanwhile, speculation on an Obama administration replacement for current EPA administrator Stephen Johnson, who is considered by many to be no more than a Bush administration yes man, centers on Kathleen McGinty, former secretary of Pennsylvania's Department of Environmental Protection; Mary Nichols of California's Air Resources Board; Ian Bowles of the Massachusetts Department of Environmental Protection; and environmental activist Robert Kennedy Jr.

McGinty looks like an EPA frontrunner because of her experience with renewable energy, a big push for the Obama administration, at least according to Pennsylvania environmental reporter Ann Murray, who's followed McGinty's career over the years.

Murray also told the Allegheny Front public radio program that there may now be a renewed push to give the EPA more teeth by elevating it to a full cabinet-level department.



1 Comment on "Fresh snow in the Vail Valley, pine beetles, Polis power, EPA inanity and more"