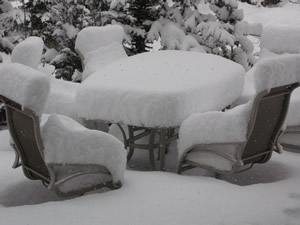 More than a foot and a half of snow plastered the patio furniture props set up for RealVail.com's West Vail Deck Cam.
Blog Tools
Comments
PermaLink
Vail Valley, ski country thankful for 2-foot feast of fresh fluff
By David O. Williams
December 1, 2008 — A holiday weekend weather system that started out slowly gained momentum by this morning (Monday), depositing nearly two feet of new snow and officially kicking ski season in the Vail Valley into high gear.

Vail was reporting 4 inches new in the last 24 hours and 13 new in the last 48 hours as of Monday morning. Beaver Creek was reporting 3 and 11 new in the same time period. That's a meaningful snowfall that will carry us into the critical month of December with gusto.

I personally didn't get out there to sample the goods over the weekend, instead taking a trip to the amazing Broadmoor Hotel in Colorado Springs for a couple nights, then heading up to my folks' house near Winter Park.

As the snow sifted down for the better part of the last four days, we ventured out on skinny skis on sketchy, early-season snowpack, setting a trail through grass patches and sagebrush. But by Sunday even that stuff was starting to get covered over, and in my book, skiing is skiing.

Now for the real stuff. I'm heading up on the hill today (Monday), taking my two oldest sons – who, incredibly, are still out of school (I remember when we only got the Friday after Thanksgiving off) – up onto Vail Mountain to see what we've been missing.

Vail had a respectable 11 lifts and 812 acres open, with more coming online by the day and a chance of snow the next couple of days. That bodes well for World Cup week at Beaver Creek, where the top men's ski racers in the world go at it on the Birds of Prey course starting Thursday. By then the sun should be shining and the skiing should be sizzling.

But if you're worried your favorite ski area may be contributing to global sizzle, a Durango-based nonprofit ski-industry watchdog group recently issued its annual environmental scorecard, ranking four Colorado resorts in the top 10 with "A" grades and flunking two in the bottom 10 with "F's".

Aspen Skiing Company resorts once again did well in the Ski Area Citizens' Coalition scorecard , with Aspen Mountain, Buttermilk and Aspen Highlands all earning A's for everything from ambitious recycling programs to generating renewable energy to minimizing impacts to surrounding public land. The other Colorado resort in the top 10 was Telluride, also earning an A.

"Most volunteers and staff of SACC are skiers themselves, and recognize skiing as a valid use of public lands," the group's Web site states. "We also recognize that not all ski areas are the same when it comes to environmental protection."

Ranking in the bottom 10 with F's were the two Summit County resorts of Copper Mountain and Breckenridge, the state's busiest ski area. Both areas — owned by the rival mega-resort companies of Intrawest and Vail Resorts, respectively — were flunked because of major ongoing base-area real estate development projects viewed as unnecessary by the SACC.

Other Vail Resorts' mountains in the state — Beaver Creek, Keystone and Vail — all earned C's, while the two other ski areas either owned or operated by Intrawest — Steamboat and Winter Park — earned a C and D, respectively.

Ski industry officials argue the scorecard doesn't give enough credit for sustainability programs like purchasing wind-credit offsets and grades too harshly for any sort of redevelopment or expansion, no matter how small the project. Vail Resorts and several other major ski companies refuse to participate in the group's annual grading system.


Comment on "Vail Valley, ski country thankful for 2-foot feast of fresh fluff" using the form below