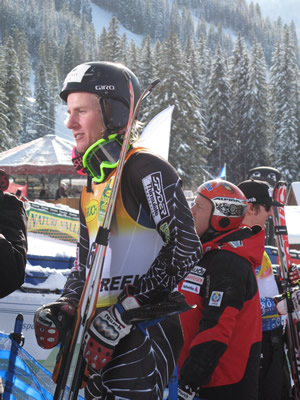 Ted Ligety was fourth and eighth at Beaver Creek last season, and in the past has two third-place finishes. He'll break through on the Birds of Prey this year.
By David O. Williams
Blog Tools
Comments
PermaLink
My Birds of Prey World Cup predictions, plus a couple of political calls
By David O. Williams
December 4, 2008 — Is it Miller time again on the Birds of Prey World Cup course where Bode won three straight years before being blanked last season? Or is it merely Maier time one more time, as in time for Hermann "Herminator" Maier's eighth win here?

The answer to these and other burning questions of our day will have to wait until Friday when the downhill hopefully goes off as planned. Today's super-combined was cancelled due to snow and blowing snow.

There's no more frustrating announcement for race officials or better news for marketing types who can now tout the 7 inches of new snow that fell overnight and the 10 inches in the last two days (more than 3 feet in the last week!). As a ski journalist, it's also sweet news because it means a free ski day (and the ability to catch up on work ... yeah right).

Back to my race predictions: as improbable as it would have seemed a year ago that Maier, who once nearly lost his leg in a motorcycle crash, would ever contend again at his former stomping ground, the mighty Austrian is coming off his first World Cup win in nearly three years last weekend – a super-G victory at Lake Louise, Canada.

It was Maier's 54th career win, second only to Ingemar Stenmark's 86 wins. Miller is sixth on that list with 31 victories, the most ever for an American. Miller was first in downhill training Tuesday by nearly a second; Maier was fourth. It could be a classic showdown in Friday's downhill.

By way of comparison, the 10 members of the U.S. Ski Team's A Team have 23 World Cup wins between them (14 of them belonging to Ski Club Vail product Lindsey Vonn). If you tack on Miller's 31 wins, even though he races independent of the U.S. squad on his own Team America, that adds up to 54 American wins – Maier's career total individually.

The Herminator turns 36 on Sunday, the day of the giant slalom, an event he can win. So if nothing else, get up to the Beav to watch a true ski-racing legend – a former brick-laying jokester of a man who has given his all to the sport.

My prediction is he wins the super-G on Saturday, but I think Miller gets his first win of the season Friday in the downhill and thus begins his relentless march toward back-to-back overall titles. And gold medalist Ted Ligety of Park City, Utah, who twice has finished third at Beaver Creek, finally gets off the snide and wins Sunday's GS.

I don't have a good enough sense of the slalom to make a call on today's super-combined, although I think Ligety will be right in the mix. He was eighth in the event last year (Miller was fourth), and then Ligety was fourth in the GS. He's due.

Lastly, some political predictions: contrary to Tom Boyd's suggestion in Boyd's Blog that Denver might land the 2018 Winter Olympics, I think the world's goodwill toward former Illinois Sen. Barack Obama will extend to sports and Chicago will land the 2016 Summer Games.

That means Denver will have to wait long beyond 2018 and perhaps long enough for the IOC to forget the city and the state rejected the 1976 Winter Olympics.

And finally, I think Obama will pick Colorado congressman John Salazar as his next Secretary of Agriculture. Salazar would give the new administration another Hispanic cabinet member and one with strong public lands experience in his Western Slope district.

No idea if, like his brother Sen. Ken Salazar, John's a skier. If so, he gets even more of an endorsement from me.


Comment on "My Birds of Prey World Cup predictions, plus a couple of political calls" using the form below